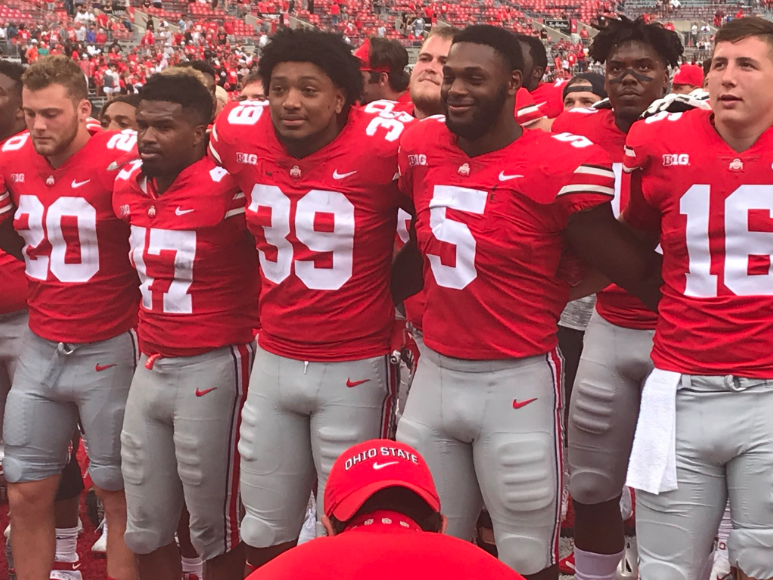 Ohio State remained ranked fourth in both national polls, while the Buckeyes' next opponent inched up a spot. Despite its 52-3 rout of Rutgers in the Big Ten opener Saturday, No. 4 OSU (2-0, 1-0) stayed put in the Amway Coaches Poll and AP Top 25 releases Sunday.
The top four of Ohio State, No. 3 Georgia, No. 2 Clemson and No. 1 Alabama did not move in the AP Top 25. No. 6 Wisconsin and No. 5 Oklahoma traded places, and others outside of the Buckeyes and the Badgers rounded out the conference.
No. 11 Penn State, No. 19 Michigan and No. 25 Michigan State made for five representatives from the Big Ten. Maryland and Iowa comprised the conference's two teams receiving votes with 30 and 23, respectively.
Beyond the conference, No. 15 TCU (2-0), OSU's opponent for week three, bumped up a spot after its 42-12 victory Friday against SMU. In full, the AP Top 25 can be found below.
AP Poll

| RANK | TEAM | RECORD | PTS | 1st VOTES | PREV |
| --- | --- | --- | --- | --- | --- |
| 1 | ALABAMA | 2-0 | 1,517 | 54 | 1 |
| 2 | CLEMSON | 2-0 | 1,430 | 6 | 2 |
| 3 | GEORGIA | 2-0 | 1,407 | – | 3 |
| 4 | OHIO STATE | 2-0 | 1,288 | – | 4 |
| 5 | OKLAHOMA | 2-0 | 1,263 | – | 6 |
| 6 | WISCONSIN | 2-0 | 1,227 | 1 | 5 |
| 7 | AUBURN | 2-0 | 1,224 | – | 7 |
| 8 | NOTRE DAME | 2-0 | 1,022 | – | 8 |
| 9 | STANFORD | 2-0 | 992 | – | 10 |
| 10 | WASHINGTON | 1-1 | 884 | – | 9 |
| 11 | PENN STATE | 2-0 | 836 | – | 13 |
| 12 | LSU | 2-0 | 830 | – | 11 |
| 13 | VIRGINIA TECH | 2-0 | 794 | – | 12 |
| 14 | WEST VIRGINIA | 2-0 | 793 | – | 14 |
| 15 | TCU | 2-0 | 678 | – | 16 |
| 16 | MISSISSIPPI STATE | 2-0 | 654 | – | 18 |
| 17 | BOISE STATE | 2-0 | 500 | – | 20 |
| 18 | UCF | 2-0 | 494 | – | 19 |
| 19 | MICHIGAN | 1-1 | 385 | – | 21 |
| 20 | OREGON | 2-0 | 301 | – | 23 |
| 21 | MIAMI (FL) | 1-1 | 299 | – | 22 |
| 22 | USC | 1-1 | 250 | – | 17 |
| 23 | ARIZONA STATE | 2-0 | 139 | – | – |
| 24 | OKLAHOMA STATE | 2-0 | 119 | – | – |
| 25 | MICHIGAN STATE | 1-1 | 104 | – | 15 |