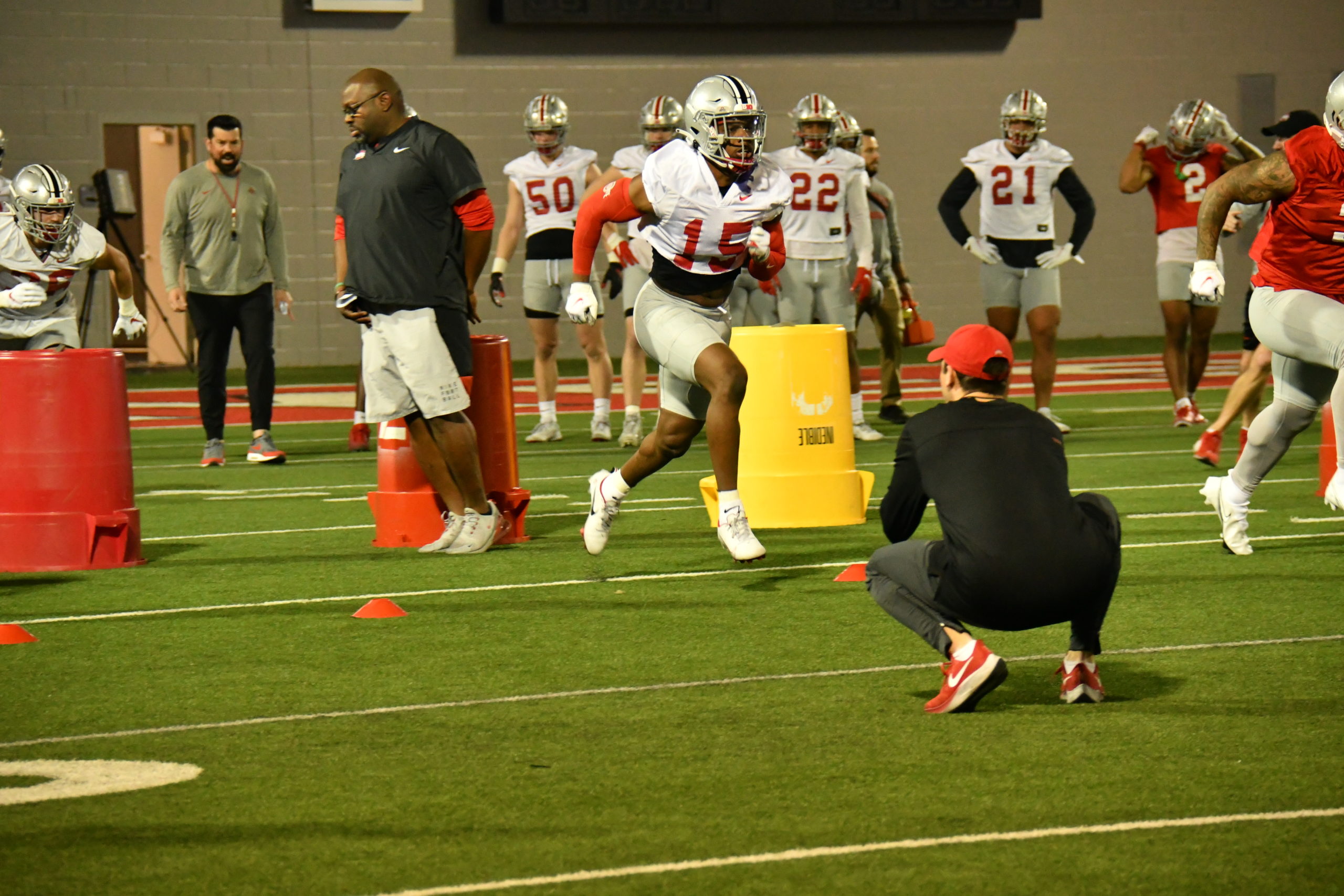 Ohio State once again opened its doors briefly to the media for a look at spring practice. Buckeye Sports Bulletin took in the first periods of practice and jotted down the sights and sounds of the morning, organized below by position:
QB: Not a whole lot to see here, other than the order through which the quarterbacks took reps. Just as they did at the last practice we saw, C.J. Stroud led off, trailed by Kyle McCord, Devin Brown, and a walk-on we can now put a name to – Chad Ray, a 6-2, 195-pound sophomore from Dublin (Ohio) Scioto who made his debut on Ohio State's roster this week. Donning No. 19, he was previously unlisted.
RB: Same order here, TreVeyon Henderson followed by Miyan Williams, with Evan Pryor as the third back. Cayden Saunders was the fourth halfback, with no sign of Marcus Crowley who is unavailable for the spring as he recovers from an injury.
WR: Kamryn Babb, rocking his new No. 1 uniform continued his run of good health. He was a full participant and seemed to be moving unencumbered by the injuries that have so severely limited his first four seasons in Columbus. Head coach Ryan Day has singled him out multiple times as a player who Ohio State will be relying on this season.
"Right now he's full go, and I can talk for hours about Kamryn Babb and what he's done," Day said in early March. "Being a captain and everything he's been through. We're Kam Babb fans around here. Everybody loves Kam Babb, and he had a really good practice today. We'll just keep pushing forward, and if he can stay healthy, he's gonna have an impact on this offense for sure."
The rest of the room looked healthy and participated fully as well.
TE: Joe Royer, Sam Hart and Bennett Christian are the three here with Mitch Rossi out. No signs of Cade Stover with this group, but we'll have more on him later.
OL: Donovan Jackson and Jakob James have officially changed numbers, with Jackson moving to No. 72 and James taking over at No. 78. Both players participated fully, as did much of the offensive line. Josh Fryar is the big man missing, as he's unavailable this spring with an unnamed injury. Center Harry Miller is still listed on the roster, but medically retired from football on March 10 and will not be with the team.
The first-team offensive line, from left to right, was Paris Johnson Jr., Matthew Jones, Luke Wypler, Jackson and Dawand Jones. Zen Michalski, Trey Leroux, Jakob James, Enokk Vimahi and Ben Christman filled the second group.
DL: Noah Potter was back in action and working with the defensive line, but everything else there was pretty standard. In four-man drills, Potter and Javontae Jean-Baptiste took the first crack at defensive end, trailed by J.T. Tuimoloau and Zach Harrison, then Jack Sawyer and a noticeably slimmed-down Tyleik Williams. Taron Vincent and Jerron Cage, Jaden McKenzie and Ty Hamilton and Mike Hall with Zach Prater took the reps at defensive tackle, in that order. Jacolbe Cowan and Tyler Friday are both out for the spring.
Later on, Mitchell Melton worked with the line as well, though he split time between that and the linebackers room.
"We think that his skill set allows him to do a little bit of both (linebacker and lineman), so we're going to kind of cross-train him in that area," Day said of Melton. "With his size and his ability to rush, he's going to give us some different things. He can put his hand in the dirt, so he'll work with Larry a little bit and he'll go over to Jim and work at linebacker. We're going to try to do the best we can to have as many of those kinds of hybrid guys to make the (opposing) offense guess a little bit and not be as predictable with the fronts."
When the line worked in pairs on forcing fumbles, Cage went with Jean-Baptiste, Harrison with Vincent, Tuimoloau with Sawyer, Hall with Potter, Williams with Hamilton and then McKenzie, Zach Cicero with Hamilton and then Bryce Prater with his brother Zach.
LB: Here's your Stover. The converted linebacker-defensive end-tight end is back to linebacker, spending all of the time we saw with that group. His final landing spot is still up in there in Day's eyes, but he seems to be pretty keen on playing at linebacker.
"(Cade) got one of the most improved awards in the offseason with Coach Marotti and his strength conditioning staff during our champions lunch," Day said. "He was recognized in that area for his work every day, his accountability and his physicality. That's huge for him, and it's somebody that could provide a huge boost to our (team) because he has the ability. Now it's time to go put him on the field. He's put a lot of work in these last seven weeks, and he's trying to figure out how he may fit into the scheme and we've gone back and forth on that.
"He may come over to tight end and do a little bit of work there as we go. I think he's he's trying to figure that out still which side he wants to play. I think he is wired to play defense and if you asked him what he'd like to do he would say defense, but he also wants to have a major impact on the team. If it's on defense, great. I've always felt like you want to allow the opportunity for guys to choose where they want to play, because that's when they will put their whole heart into something. Steele Chambers made that move and that was his decision. I think (Cade) could be a tremendous tight end. I think he really put a lot of work in over the last year, but it will be up to him for what he feels most comfortable doing going forward.
"I won't put a deadline (on his decision). He played all of last year at tight end and then at the Rose Bowl he played linebacker. He's very, very talented. He had an unbelievable offseason. Cade was an Iron Buckeye for us in the Champions meeting yesterday. One way or another, he will have an impact on this team."
Stover was joined through an individual linebacker drill session by Teradja Mitchell, Tommy Eichenberg, Steele Chambers, Reid Carrico, C.J. Hicks, Chip Trayanum, Gabe Powers, Jackson Kuwatch, Palaie Gaoteote IV and Jalen Pace. The order here didn't seem to be especially connected to anything, and when the linebackers worked in pairings, they did so with the same order as when we last saw them. Cody Simon was at practice and in pads but didn't seem to be a full participant as he continues to recover from season-ending surgery.
CB: The cornerbacks and safeties did some work together and BSB pulled the rep orders from that as well, but we'll start first with the pure cornerback ordering as they went through a tackling drill directed by defensive line coach Larry Johnson. Split into two groups, Cameron Brown led the first group with Denzel Burke, Ryan Turner and Cameron Kittle behind him, while Lejond Cavazos led the other group, trailed by Lloyd McFarquhar, Jordan Hancock and Jakailin Johnson. Again, I wouldn't take much from the ordering here.
S: When the safeties worked that drill, Kourt Williams led a group of Marcus Hooker, Tanner McAlister and Kye Stokes, while Ronnie Hickman took the first rep in the other group with Cameron Martinez, Bryson Shaw and Andre Turrentine behind him.
The combined defensive back room, four players across (save for the last group, which had five) for a back-peddling drill, was as follows: Burke and Brown at cornerback, Williams and Hickman at safety. Johnson and Cavazos at cornerback, McAlister and Shaw at safety. McFarquhar and Hancock at cornerback, Hooker and Martinez at safety, Andrew Moore, Kittle and Turner at cornerback, Turrentine and Stokes at safety. Defensive coordinator Jim Knowles spoke at the beginning of spring practice about wanting to get both Williams and Hickman on the field together, and they seem to be the leaders right now at safety – albeit with Josh Proctor out for spring practice.
"I do envision Ronnie and Kourt playing together. Ronnie is a heads-up guy, a football player," Knowles said. "He understands defense, he communicates, he has a great personality. He's everything I want in a safety, so I want him on the field and I want Kourt out there too."
Special Teams: Jesse Mirco and Dominic DiMaccio took turns firing off punts, and those that didn't hit the ceiling of the Woody Hayes Athletic Center fell into the arms of either Julian Fleming, Martinez or Jaxon Smith-Njigba.