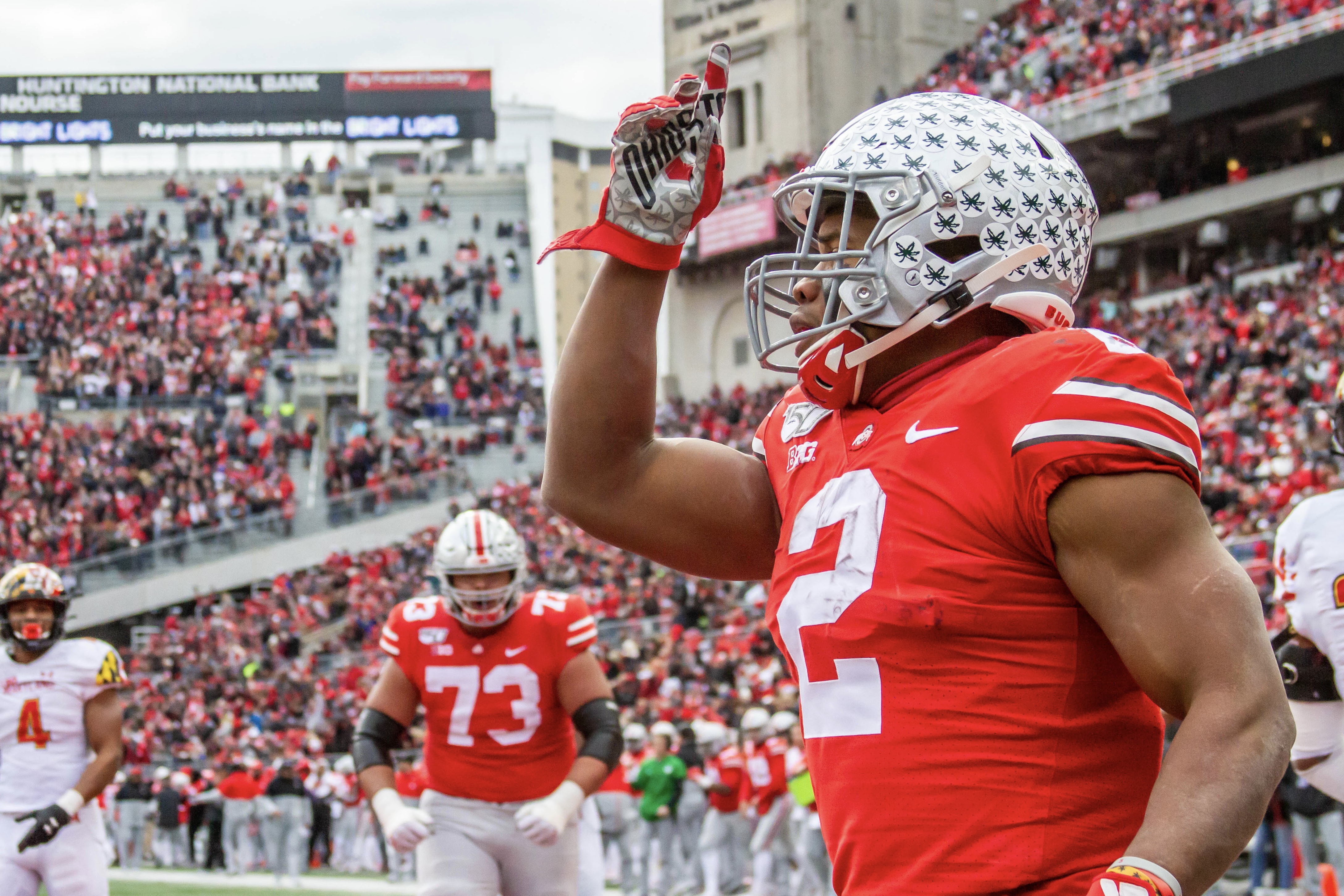 Ohio State was rewarded for its massive 73-14 drubbing of Maryland on Nov. 9, as it moved up from No. 3 to No. 2 in the AP Poll. Behind only LSU, Ohio State's move may not have been as much based on its own performance, but rather the 46-41 loss that the previously second ranked Alabama Crimson Tide took to LSU on Saturday night. Alabama fell to fourth in the latest poll, with Clemson moving up a spot to third to fill out the top four.
Behind Alabama, Georgia is up one spot to No. 5, Oregon is No. 6, Minnesota is all the way at No.7, followed by Utah, Penn State and Oklahoma. The Buckeyes are joined by six fellow Big Ten teams, with Minnesota trailing the Buckeyes, Penn State behind them after the Golden Gophers knocked off the Nittany Lions, 31-26, then Michigan checking in at No. 14, Wisconsin a spot behind them, Iowa down to No. 23, and for the first time since 1994, Indiana, at No. 24. Suddenly bowl eligible received one vote after beating Michigan State 37-34.
Ohio State has two ranked opponents left on the schedule in Penn State on Nov. 23 and Michigan a week later, and now sits at three ranked wins with Indiana sliding into the top 25.
| Rank | | Team | PV Rank | Conference | Points | |
| --- | --- | --- | --- | --- | --- | --- |
| 1 | | LSU (9-0) | 1 | SEC | 1,542 | |
| 2 | | Ohio State (9-0) | 3 | Big Ten | 1,480 | |
| 3 | | Clemson (10-0) | 4 | ACC | 1,441 | |
| 4 | | Alabama (8-1) | 2 | SEC | 1,312 | |
| 5 | | Georgia (8-1) | 6 | SEC | 1,267 | |
| 6 | | Oregon (8-1) | 7 | Pac-12 | 1,224 | |
| 7 | | Minnesota (9-0) | 13 | Big Ten | 1,164 | |
| 8 | | Utah (8-1) | 8 | Pac-12 | 1,099 | |
| 9 | | Penn State (8-1) | 5 | Big Ten | 1,003 | |
| 10 | | Oklahoma (8-1) | 9 | Big 12 | 1,000 | |
| 11 | | Florida (8-2) | 10 | SEC | 934 | |
| 12 | | Baylor (9-0) | 11 | Big 12 | 932 | |
| 13 | | Auburn (7-2) | 12 | SEC | 871 | |
| 14 | | Michigan (7-2) | 14 | Big Ten | 744 | |
| 15 | | Wisconsin (7-2) | 16 | Big Ten | 657 | |
| 16 | | Notre Dame (7-2) | 15 | IA Independents | 593 | |
| 17 | | Cincinnati (8-1) | 17 | American Athletic | 567 | |
| 18 | | Memphis (8-1) | 19 | American Athletic | 510 | |
| 19 | | Boise State (8-1) | 21 | Mountain West | 371 | |
| 20 | | SMU (9-1) | 23 | American Athletic | 346 | |
| 21 | | Navy (7-1) | 25 | American Athletic | 228 | |
| 22 | | Texas (6-3) | | Big 12 | 199 | |
| 23 | | Iowa (6-3) | 18 | Big Ten | 197 | |
| 24 | | Indiana (7-2) | | Big Ten | 108 | |
| 25 | | Oklahoma State (6-3) | | Big 12 | 77 | |