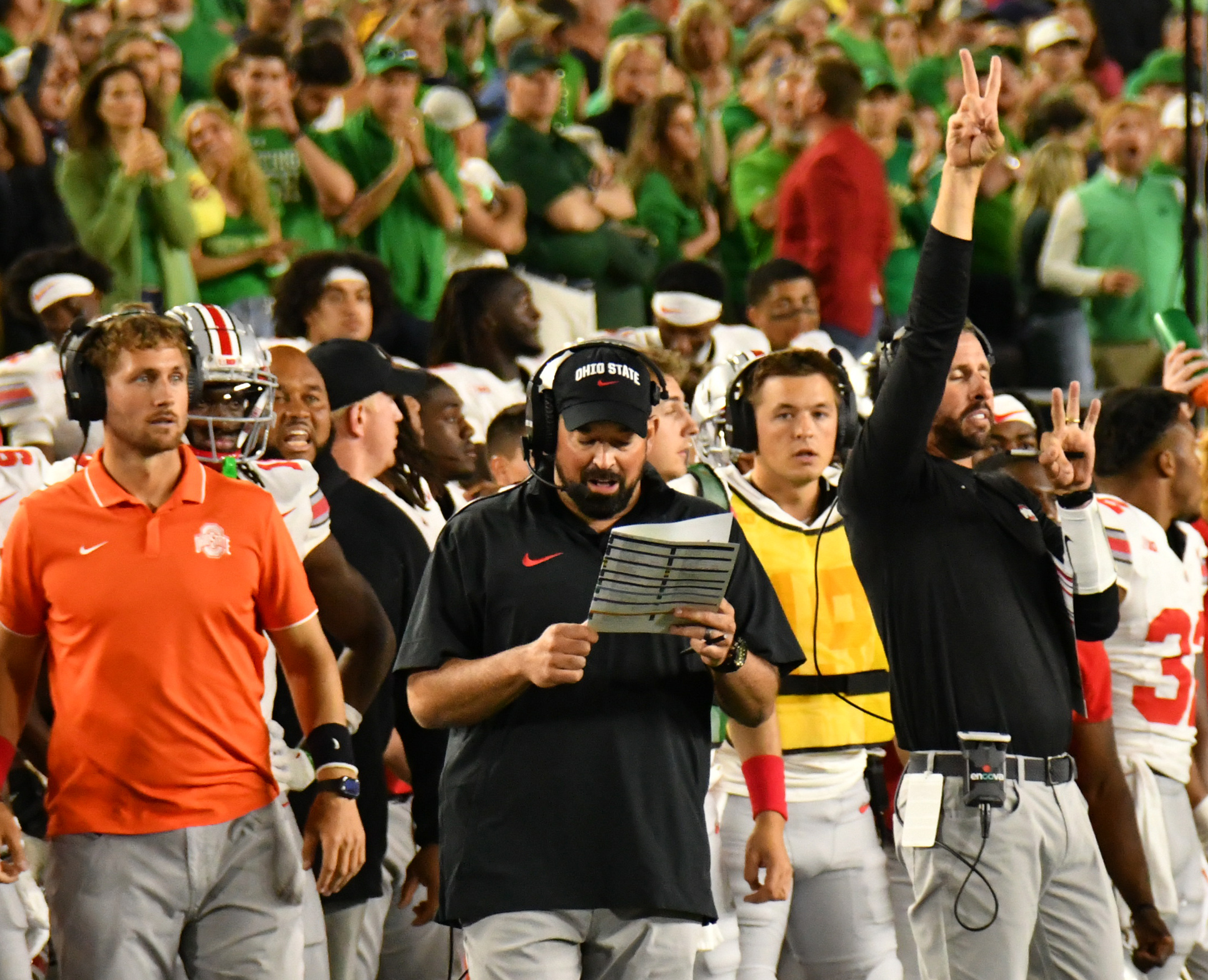 Ohio State held steady in the AP Top 25 released Sunday, staying at No. 4 after not playing due to the team's off week.
The Buckeyes were part of a larger lack of movement in the poll, as the top seven spots – including No. 1 Georgia, No. 2 Michigan, No. 3 Texas, No. 4 Ohio State, No. 5 Florida State, No. 6 Penn State and No. 7 Washington – all did move move this week. Ohio State was one of five teams – along with Georgia, Michigan, Texas and Florida State – to receive at least one first-place vote.
Also in the top 10 were No. 8 Oregon and No. 9 USC, which switched spots from last week, and No. 10 Notre Dame, which jumped one spot after defeating then-No. 17 Duke on Saturday.
There are no other Big Ten teams ranked in the AP Top 25 outside of Michigan, Ohio State and Penn State, though Maryland received the most votes of teams not in the rankings, and Wisconsin also received votes.
The largest jump in the poll belonged to No. 15 Oregon State and No. 16 Ole Miss, which both jumped four spots after big wins over Utah and LSU, respectively, while the Utes and Tigers fell eight and 10 spots, respectively. Here is the full poll:
| | | | |
| --- | --- | --- | --- |
| Ranking | Team | Points (First-Place Votes) | Change |
| No. 1 | Georgia (5-0) | 1,501 (35) | – |
| No. 2 | Michigan (5-0) | 1,436 (12) | – |
| No. 3 | Texas (5-0) | 1,426 (10) | – |
| No. 4 | Ohio State (4-0) | 1,357 (1) | – |
| No. 5 | Florida State (4-0) | 1,336 (4) | – |
| No. 6 | Penn State (5-0) | 1,227 | – |
| No. 7 | Washington (5-0) | 1,213 | – |
| No. 8 | Oregon (5-0) | 1,113 | +1 |
| No. 9 | USC (5-0) | 1,077 | -1 |
| No. 10 | Notre Dame (5-1) | 975 | +1 |
| No. 11 | Alabama (4-1) | 921 | +1 |
| No. 12 | Oklahoma (5-0) | 840 | +2 |
| No. 13 | Washington State (4-0) | 765 | +3 |
| No. 14 | North Carolina (4-0) | 726 | +1 |
| No. 15 | Oregon State (4-1) | 633 | +4 |
| No. 16 | Ole Miss (4-1) | 616 | +4 |
| No. 17 | Miami (4-0) | 589 | +1 |
| No. 18 | Utah (4-1) | 454 | -8 |
| No. 19 | Duke (4-1) | 384 | -2 |
| No. 20 | Kentucky (5-0) | 344 | NEW |
| No. 21 | Missouri (5-0) | 329 | +2 |
| No. 22 | Tennessee (4-1) | 206 | -1 |
| No. 23 | LSU (3-2) | 149 | -10 |
| No. 24 | Fresno State (5-0) | 130 | +1 |
| No. 25 | Louisville (5-0) | 90 | NEW |