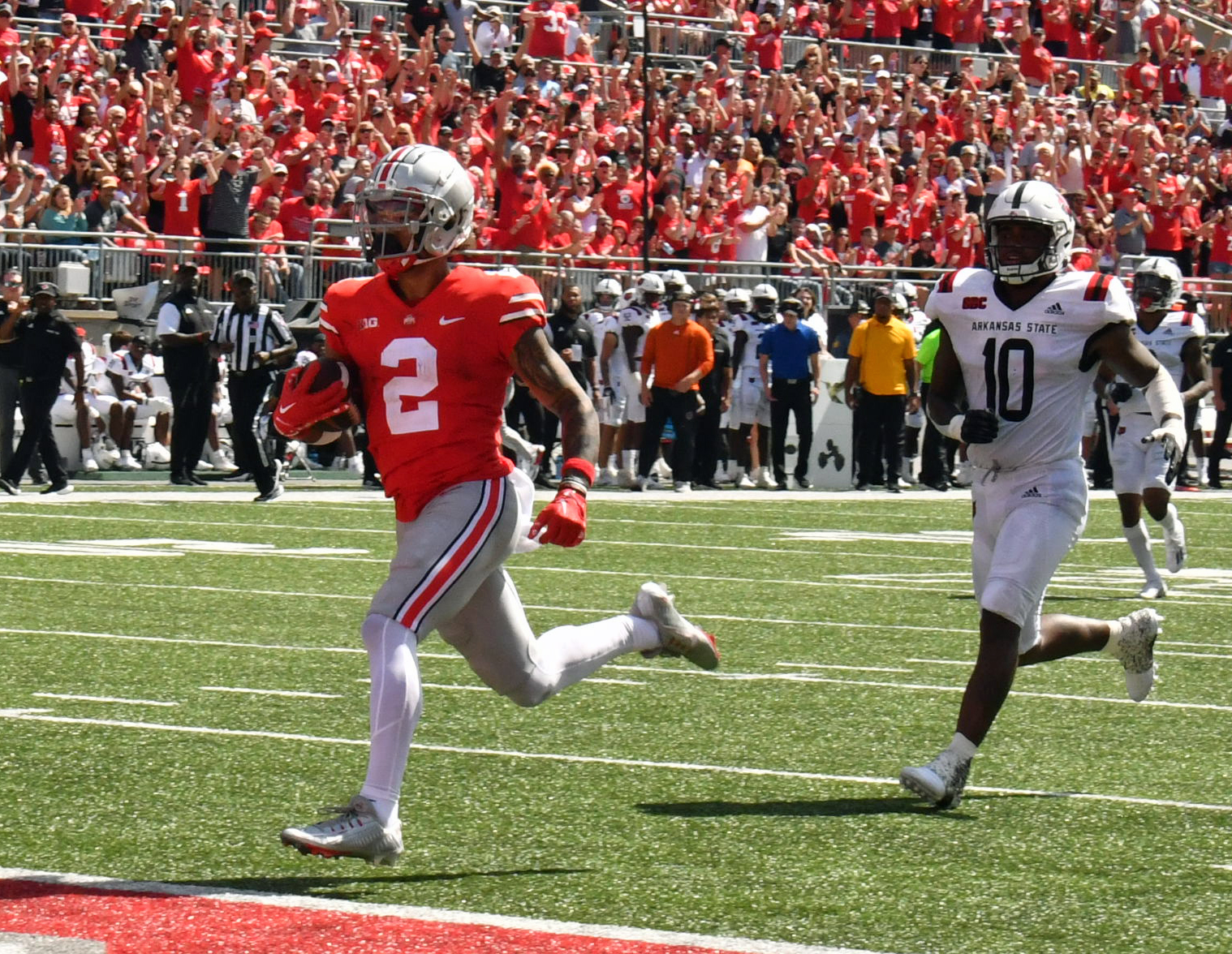 Following Ohio State's 45-12 win over Arkansas State, the Buckeyes remained at No. 3 in the AP Top 25 poll released on Sunday. Georgia jumped Alabama to take the top of the poll, while the Crimson Tide fell to No. 2. No. 4 Michigan and No. 5 Clemson round out the top five.
Elsewhere in the Big Ten, Michigan State moved up three spots to No. 11, and Penn State jumped into the poll at No. 22. Ohio State's opponent in week one, then-No. 5 Notre Dame, fell out of the poll following a 26-21 loss to Marshall.
The biggest rise in the poll belonged to No. 9 Kentucky, who rose 11 spots after defeating Florida 26-16. Texas A&M saw the biggest drop, falling from No. 6 to No. 24 after losing at home to Appalachian State.
Other receiving votes include Marshall (85), Cincinnati (80), Appalachian State (80), Kansas State (77), North Carolina (71), Mississippi State (43), Florida State (42), Oregon State (42), Minnesota (37), Washington State (30), Notre Dame (23), Air Force (19), Texas Tech (17), Wisconsin (seven), Auburn (four), Iowa State (four) and Purdue (one).
| | | | |
| --- | --- | --- | --- |
| Rank | Team (Record) | Points | Change |
| No. 1 | Georgia (2-0) | 1,561 (53) | +1 |
| No. 2 | Alabama (2-0) | 1,496 (9) | -1 |
| No. 3 | Ohio State (2-0) | 1,475 (1) | N/A |
| No. 4 | Michigan (2-0) | 1,359 | N/A |
| No. 5 | Clemson (2-0) | 1,285 | N/A |
| No. 6 | Oklahoma (2-0) | 1,209 | +1 |
| No. 7 | USC (2-0) | 1,139 | +3 |
| No. 8 | Oklahoma State (2-0) | 1,004 | +3 |
| No. 9 | Kentucky (2-0) | 992 | +11 |
| No. 10 | Arkansas (2-0) | 938 | +6 |
| No. 11 | Michigan State (2-0) | 902 | +3 |
| No. 12 | BYU (2-0) | 880 | +9 |
| No. 13 | Miami (Fla.) (2-0) | 772 | +2 |
| No. 14 | Utah (1-1) | 673 | -1 |
| No. 15 | Tennessee (2-0) | 658 | +9 |
| No. 16 | NC State (2-0) | 623 | +2 |
| No. 17 | Baylor (1-1) | 562 | -8 |
| No. 18 | Florida (1-1) | 484 | -6 |
| No. 19 | Wake Forest (2-0) | 449 | +4 |
| No. 20 | Ole Miss (2-0) | 411 | +2 |
| No. 21 | Texas (1-1) | 276 | UR |
| No. 22 | Penn State (2-0) | 271 | UR |
| No. 23 | Pittsburgh (1-1) | 160 | -6 |
| No. 24 | Texas A&M (1-1) | 145 | -18 |
| No. 25 | Oregon (1-1) | 89 | UR |