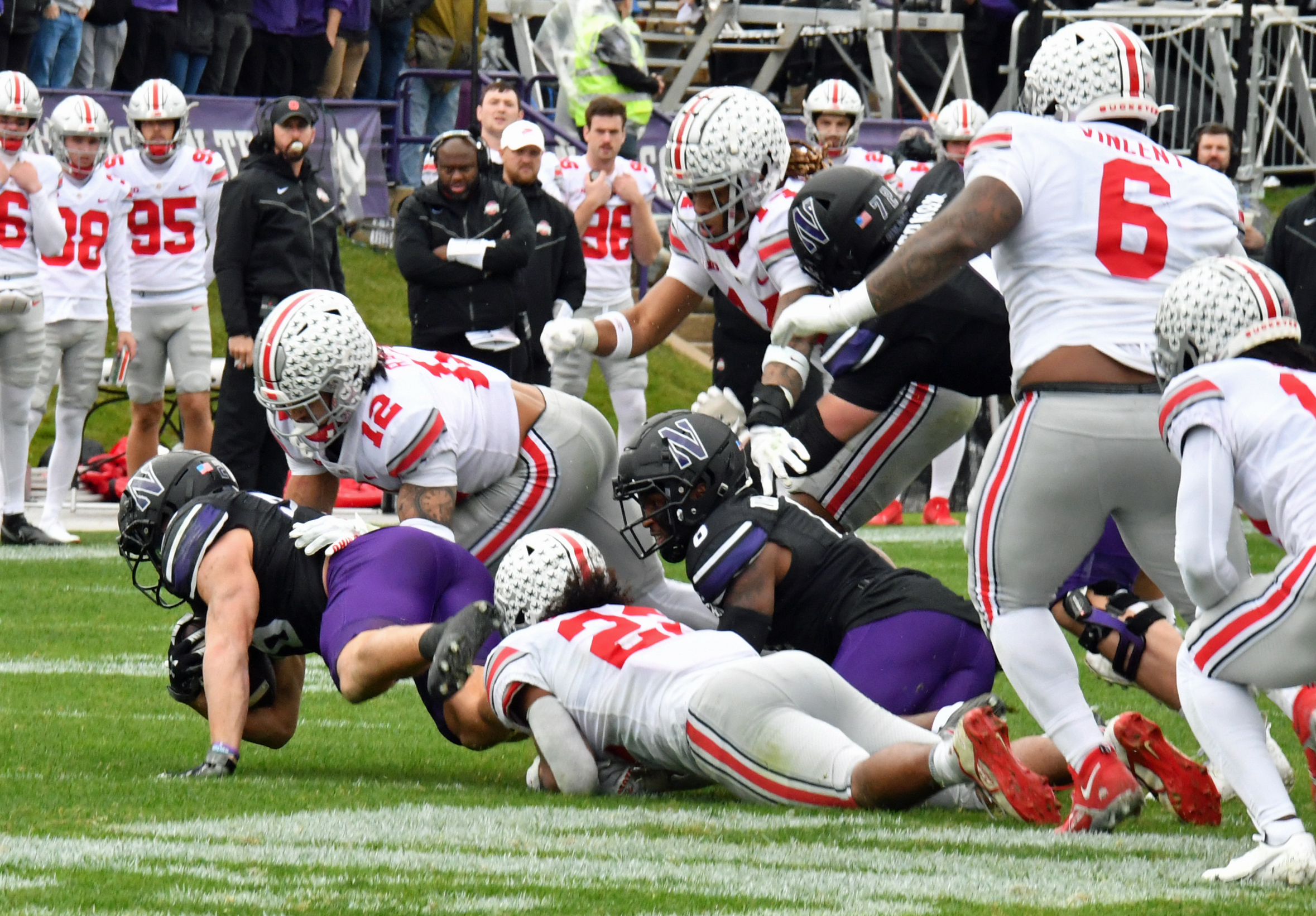 Despite a chaotic weekend in college football, Ohio State came out unscathed with an undefeated record and remained at No. 2 in the most recent College Football Playoff rankings released Tuesday.
The Buckeyes remain at No. 2 behind No. 1 Georgia, which overtook the top spot after knocking off then-No. 1 Tennessee. Michigan checks in at No. 3 with TCU at No. 4, and the first out at No. 5 was Tennessee, who suffered its first loss of the season at the Bulldogs. The top 10 is rounded out by No. 6 Oregon, No. 7 LSU, No. 8 USC, No. 9 Alabama and No. 10 Clemson.
Outside of Ohio State and Michigan, two other Big Ten teams were in the rankings with No. 14 Penn State and No. 21 Illinois, who remaining in the rankings despite falling to unranked Michigan State. Of note for the Buckeyes is No. 20 Notre Dame, who jumped into the poll after knocking off Clemson, giving Ohio State another ranked win on the season in addition to the Nittany Lions.
The upcoming weekend now features several matchups between teams in the rankings, including No. 9 Alabama at No. 11 Ole Miss, No. 25 Washington at No. 6 Oregon and No. 4 TCU at No. 18 Texas.
| | |
| --- | --- |
| Ranking | Team |
| No. 1 | Georgia (9-0) |
| No. 2 | Ohio State (9-0) |
| No. 3 | Michigan (9-0) |
| No. 4 | TCU (9-0) |
| No. 5 | Tennessee (8-1) |
| No. 6 | Oregon (8-1) |
| No. 7 | LSU (7-2) |
| No. 8 | USC (8-1) |
| No. 9 | Alabama (7-2) |
| No. 10 | Clemson (8-1) |
| No. 11 | Ole Miss (8-1) |
| No. 12 | UCLA (8-1) |
| No. 13 | Utah (7-2) |
| No. 14 | Penn State (7-2) |
| No. 15 | North Carolina (8-1) |
| No. 16 | NC State (7-2) |
| No. 17 | Tulane (8-1) |
| No. 18 | Texas (6-3) |
| No. 19 | Kansas State (6-3) |
| No. 20 | Notre Dame (6-3) |
| No. 21 | Illinois (7-2) |
| No. 22 | UCF (7-2) |
| No. 23 | Florida State (6-3) |
| No. 24 | Kentucky (6-3) |
| No. 25 | Washington (7-2) |