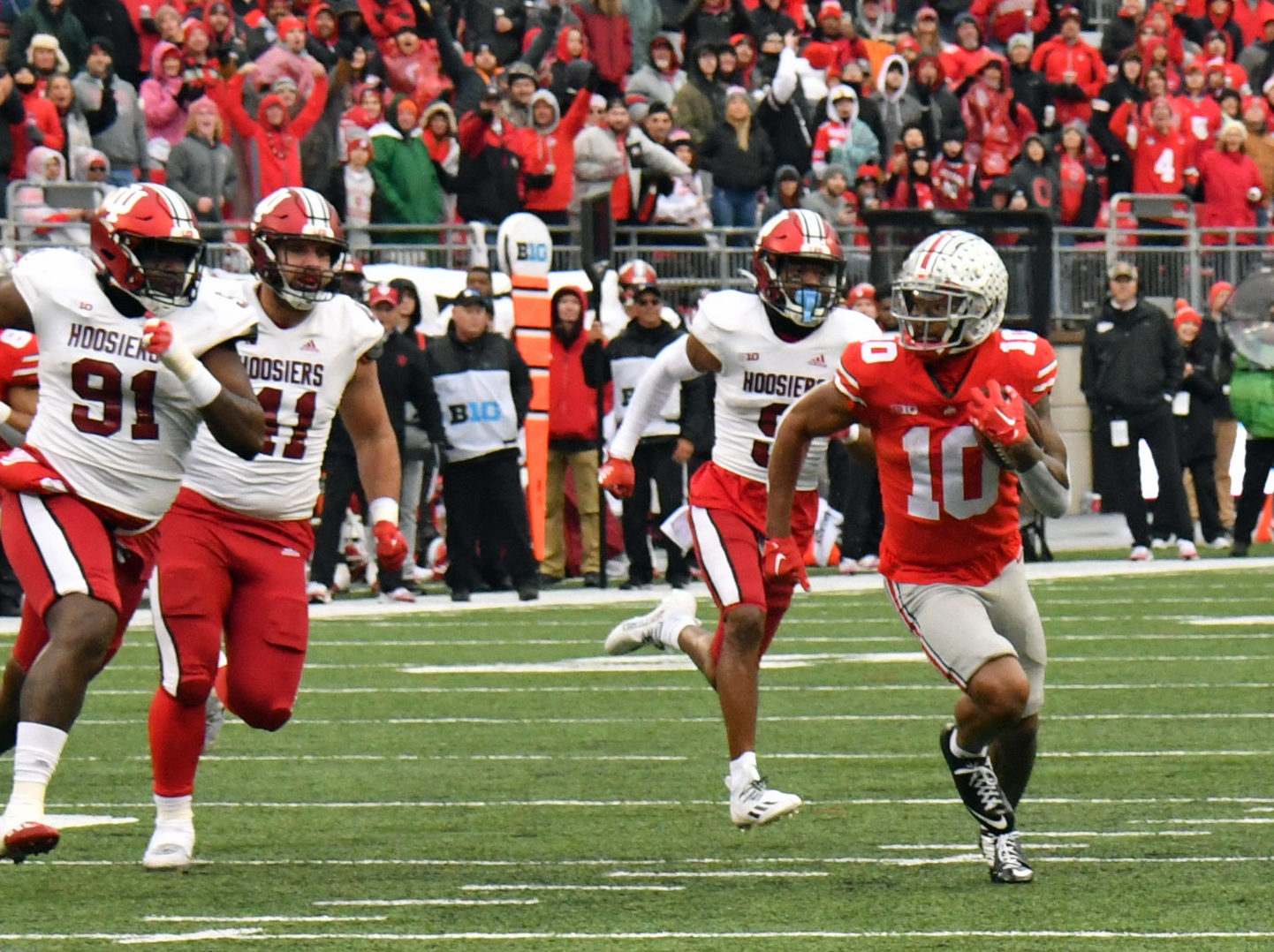 Fresh off a 56-14 win over Indiana on Saturday, Ohio State stayed at No. 2 in the most College Football Playoff rankings released Tuesday.
Ohio State remained in the No. 2 slot as it did in the first two College Football Playoff rankings of the season. The Buckeyes trail only No. 1 Georgia and are ahead of No. 3 Michigan and No. 4 TCU. Ohio State and Michigan are on a collision course for a likely top-three matchup on Nov. 26 at Ohio Stadium.
The first team out at No. 5 was Tennessee, followed by LSU at No. 6. Rounding out the top 10 was No. 7 USC, No. 8 Alabama, No. 9 Clemson and No. 10 Utah. The only other Big Ten team in the rankings was No. 11 Penn State, who moved up three spots this week. Illinois had previously been in the rankings but fell out after a loss to Purdue this past weekend.
Here are the full rankings:
| | |
| --- | --- |
| Ranking | Team |
| No. 1 | Georgia (10-0) |
| No. 2 | Ohio State (10-0) |
| No. 3 | Michigan (10-0) |
| No. 4 | TCU (10-0) |
| No. 5 | Tennessee (9-1) |
| No. 6 | LSU (8-2) |
| No. 7 | USC (9-1) |
| No. 8 | Alabama (8-2) |
| No. 9 | Clemson (9-1) |
| No. 10 | Utah (8-2) |
| No. 11 | Penn State (8-2) |
| No. 12 | Oregon (8-2) |
| No. 13 | North Carolina (9-1) |
| No. 14 | Ole Miss (8-2) |
| No. 15 | Kansas State (7-3) |
| No. 16 | UCLA (8-2) |
| No. 17 | Washington (8-2) |
| No. 18 | Notre Dame (7-3) |
| No. 19 | Florida State (7-3) |
| No. 20 | UCF (8-2) |
| No. 21 | Tulane (8-2) |
| No. 22 | Oklahoma State (7-3) |
| No. 23 | Oregon State (7-3) |
| No. 24 | NC State (7-3) |
| No. 25 | Cincinnati (8-2) |