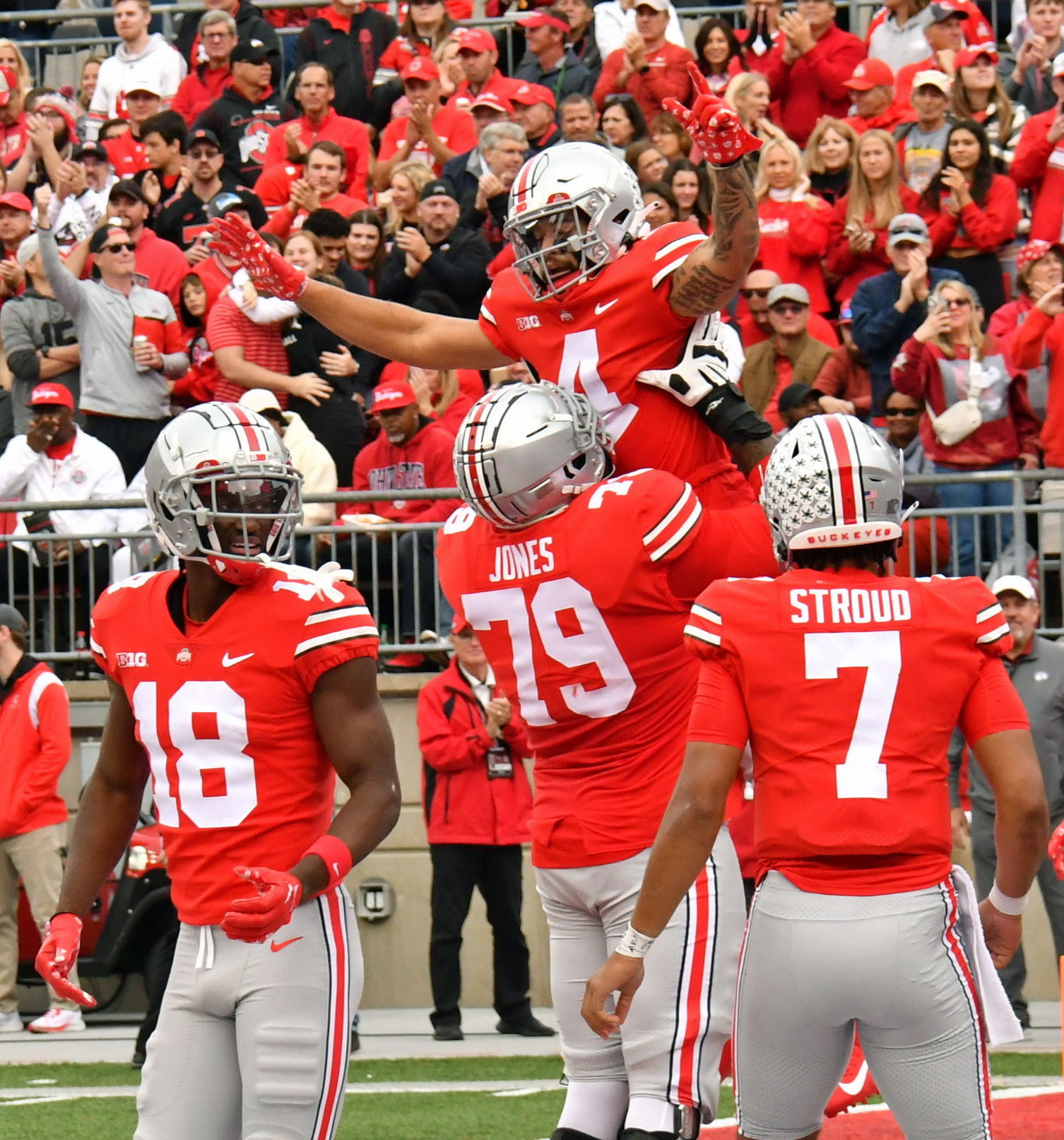 College football was chaos this past Saturday, with seven AP Top 25 teams dropping games. Ohio State was not among them, however, during the Buckeyes' off week, and Ohio State remained at No. 2 in the most recent AP Top 25 poll released Sunday.
Ohio State trails only No. 1 Georgia, who holds 31 first-place votes, compared to 17 for the Buckeyes. The top five also features No. 3 Tennessee (15 first-place votes) following the Volunteers' win over now-No. 6 Alabama, No. 4 Michigan and No. 5 Clemson.
The top ten is rounded out by No. 7 Ole Miss, No. 8 TCU, No. 9 UCLA and No. 10 Oregon. No. 16 Penn State fell six spots after losing to Michigan, while No. 18 Illinois is up six spots after knocking off Minnesota. Purdue (95), Maryland (five) and Minnesota (one) are the only other Big Ten teams receiving votes.
The Fighting Illini saw the biggest rise in the poll, while No. 23 NC State and No. 24 Mississippi State each dropped eight spots.
| | | | |
| --- | --- | --- | --- |
| Ranking | Team | Points | Change |
| No. 1 | Georgia (7-0) | 1,530 (31) | N/A |
| No. 2 | Ohio State (6-0) | 1,509 (17) | N/A |
| No. 3 | Tennessee (6-0) | 1,474 (15) | +3 |
| No. 4 | Michigan (7-0) | 1,384 | +1 |
| No. 5 | Clemson (7-0) | 1,336 | -1 |
| No. 6 | Alabama (6-1) | 1,232 | -3 |
| No. 7 | Ole Miss (7-0) | 1,173 | +2 |
| No. 8 | TCU (6-0) | 1,166 | +5 |
| No. 9 | UCLA (6-0) | 1,048 | +2 |
| No. 10 | Oregon (5-1) | 953 | +2 |
| No. 11 | Oklahoma State (5-1) | 913 | -3 |
| No. 12 | USC (6-1) | 861 | -5 |
| No. 13 | Wake Forest (5-1) | 790 | +1 |
| No. 14 | Syracuse (6-0) | 751 | +4 |
| No. 15 | Utah (5-2) | 715 | +5 |
| No. 16 | Penn State (5-1) | 629 | -6 |
| No. 17 | Kansas State (5-1) | 599 | N/A |
| No. 18 | Illinois (6-1) | 433 | +6 |
| No. 19 | Kentucky (5-2) | 414 | +3 |
| No. 20 | Texas (5-2) | 368 | +2 |
| No. 21 | Cincinnati (5-1) | 321 | N/A |
| No. 22 | North Carolina (6-1) | 210 | N/A |
| No. 23 | NC State (5-2) | 155 | -8 |
| No. 24 | Mississippi State (5-2) | 150 | -8 |
| No. 25 | Tulane (6-1) | 115 | N/A |