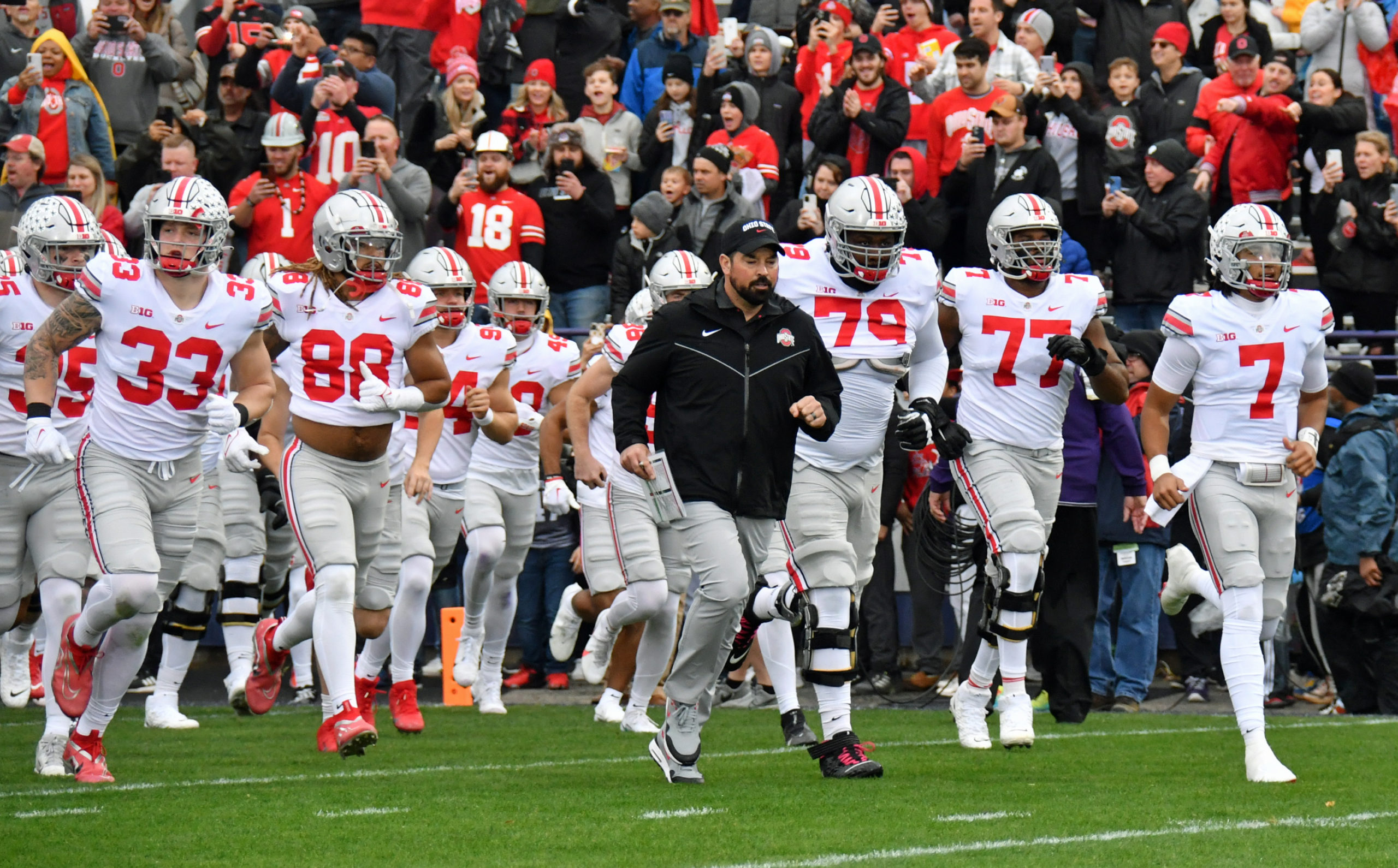 After surviving a trip to Evanston, Ill., with a 21-7 victory over Northwestern, Ohio State remained at No. 2 in the most recent AP Poll. The Buckeyes were more fortunate than a trio of their top-10 counterparts, as Tennessee, Clemson and Alabama all walked out of the week with losses.
After taking down then-No. 2 Tennessee, Georgia remained in the top spot while seeing a surge in first-place votes, gaining 31 votes from last week and rising to 62 total votes. Ohio State was the only other team to receive a first-place vote, obtaining just one. No. 3 Michigan, No. 4 TCU and No. 5 Tennessee rounded out the top five, while No. 6 Oregon, No. 7 LSU, No. 8 USC, No. 9 UCLA and No. 10 Alabama completed the top 10.
Outside of Michigan and Ohio State, Penn State checked in at No. 14, after its 45-14 win over Indiana, while Illinois dropped seven spots to No. 21 thanks to its 23-15 loss to Michigan State at home.
Thanks to its win over Alabama, LSU was the highest riser — gaining eight spots to move into the top 10. Several teams saw significant falls, as Clemson and Illinois each dropped seven spots, however, Kansas State saw the largest drop — falling from No. 13 to No. 23 after a 34-27 loss to Texas.
| | | | |
| --- | --- | --- | --- |
| Ranking | Team | Points | Change |
| No. 1 | Georgia (9-0) | 1,574 (62) | N/A |
| No. 2 | Ohio State (9-0) | 1,500 (1) | N/A |
| No. 3 | Michigan (9-0) | 1,455 | +1 |
| No. 4 | TCU (9-0) | 1,361 | +3 |
| No. 5 | Tennessee (8-1) | 1,339 | -3 |
| No. 6 | Oregon (8-1) | 1,258 | +2 |
| No. 7 | LSU (7-2) | 1,132 | +8 |
| No. 8 | USC (8-1) | 1,061 | +1 |
| No. 9 | UCLA (8-1) | 1,040 | +1 |
| No. 10 | Alabama (7-2) | 1,009 | -4 |
| No. 11 | Ole Miss (8-1) | 962 | N/A |
| No. 12 | Clemson (8-1) | 938 | -7 |
| No. 13 | Utah (7-2) | 881 | -1 |
| No. 14 | Penn State (7-2) | 735 | +2 |
| No. 15 | North Carolina (8-1) | 676 | +2 |
| No. 16 | Tulane (8-1) | 607 | +3 |
| No. 17 | North Carolina State (7-2) | 547 | +4 |
| No. 18 | Texas (6-3) | 399 | N/A |
| No. 19 | Liberty (8-1) | 358 | +4 |
| No. 20 | Notre Dame (6-3) | 316 | N/A |
| No. 21 | Illinois (7-2) | 262 | -7 |
| No. 22 | UCF (7-2) | 257 | +3 |
| No. 23 | Kansas State (6-3) | 247 | -10 |
| No. 24 | Washington (7-2) | 187 | N/A |
| No. 25 | Florida State (6-3) | 78 | N/A |