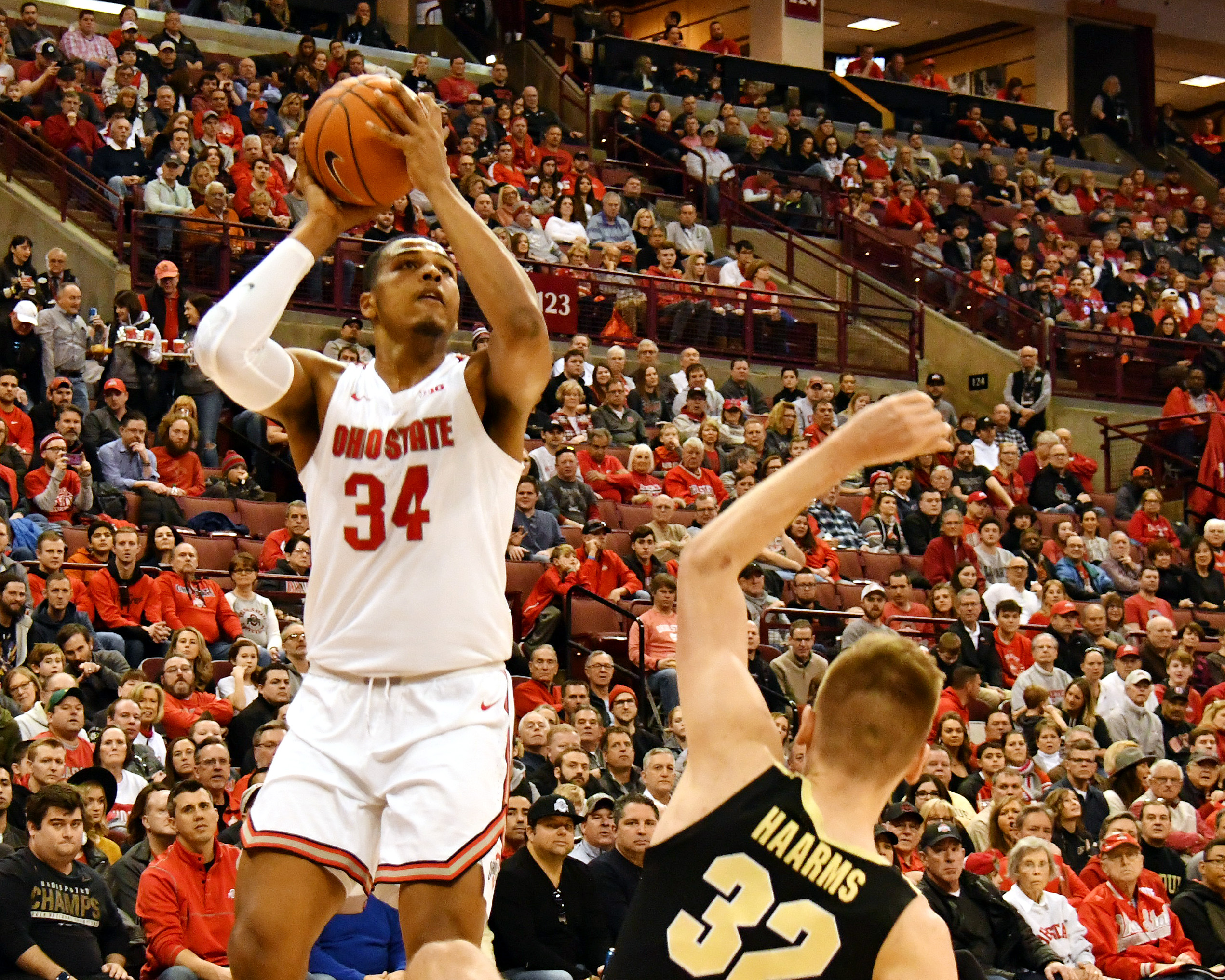 After splitting two games this week, the Ohio State men's basketball team held firm at No. 19 in the Associated Press Top 25 Poll, which was released on Monday afternoon.
POLL ALERT: Kansas remains unanimous No. 1 in men's AP Top 25 ahead of Gonzaga; Florida State up to No. 4, Creighton to No. 7.

Full poll: https://t.co/xXlGQKLkGZ

More college basketball coverage: https://t.co/N0HLv6oHbR pic.twitter.com/c323zpfc2c

— AP Top 25 (@AP_Top25) March 9, 2020
The Buckeyes beat Illinois, 71-63,  on Thursday night but dropped the regular-season finale at Michigan State, 80-69, on Sunday afternoon to finish the year at 21-10 overall (11-9 in the Big Ten).
Kansas, meanwhile, maintained its grip on the No. 1 spot for the third straight week, followed by Gonzaga, Dayton, Florida State and Baylor. Five other Big Ten teams are in the top 25, including conference co-champion Michigan State (No. 9), Maryland (12) and Wisconsin (18), as well as Illinois (21) and Iowa (25).
Ohio State is set to begin postseason play against Purdue on Thursday as the No. 7 seed in the Big Ten Tournament. Tip off is set for 6:30 p.m. at Bankers Life Fieldhouse in Indianapolis.
Check out the full AP Top 25 poll below:
| RANK | TEAM | RECORD | POINTS | PREVIOUS | CONFERENCE |
| --- | --- | --- | --- | --- | --- |
| 1 | KANSAS | 28–3 | 1,625 | 1 | Big 12 |
| 2 | GONZAGA | 29–2 | 1,546 | 2 | West Coast |
| 3 | DAYTON | 29–2 | 1,507 | 3 | Atlantic 10 |
| 4 | FLORIDA STATE | 26–5 | 1,384 | 7 | Atlantic Coast |
| 5 | BAYLOR | 26–4 | 1,322 | 4 | Big 12 |
| 6 | SAN DIEGO STATE | 30–2 | 1,261 | 5 | Mountain West |
| 7 | CREIGHTON | 24–7 | 1,157 | 11 | Big East |
| 8 | KENTUCKY | 25–6 | 1,118 | 6 | Southeastern |
| 9 | MICHIGAN STATE | 22–9 | 995 | 16 | Big Ten |
| 10 | DUKE | 25–6 | 990 | 12 | Atlantic Coast |
| 11 | VILLANOVA | 24–7 | 989 | 14 | Big East |
| 12 | MARYLAND | 24–7 | 912 | 9 | Big Ten |
| 13 | OREGON | 24–7 | 904 | 13 | Pacific 12 |
| 14 | BYU | 24–7 | 762 | 15 | West Coast |
| 15 | LOUISVILLE | 24–7 | 755 | 10 | Atlantic Coast |
| 16 | SETON HALL | 21–9 | 722 | 8 | Big East |
| 17 | VIRGINIA | 23–7 | 560 | 22 | Atlantic Coast |
| 18 | WISCONSIN | 21–10 | 495 | 24 | Big Ten |
| 19 | OHIO STATE | 21–10 | 443 | 19 | Big Ten |
| 20 | AUBURN | 25–6 | 436 | 17 | Southeastern |
| 21 | ILLINOIS | 21–10 | 241 | 23 | Big Ten |
| 22 | HOUSTON | 23–8 | 167 | 21 | American Athletic |
| 22 | WEST VIRGINIA | 21–10 | 167 | – | Big 12 |
| 24 | BUTLER | 22–9 | 161 | – | Big East |
| 25 | IOWA | 20–11 | 111 | 18 | Big Ten |