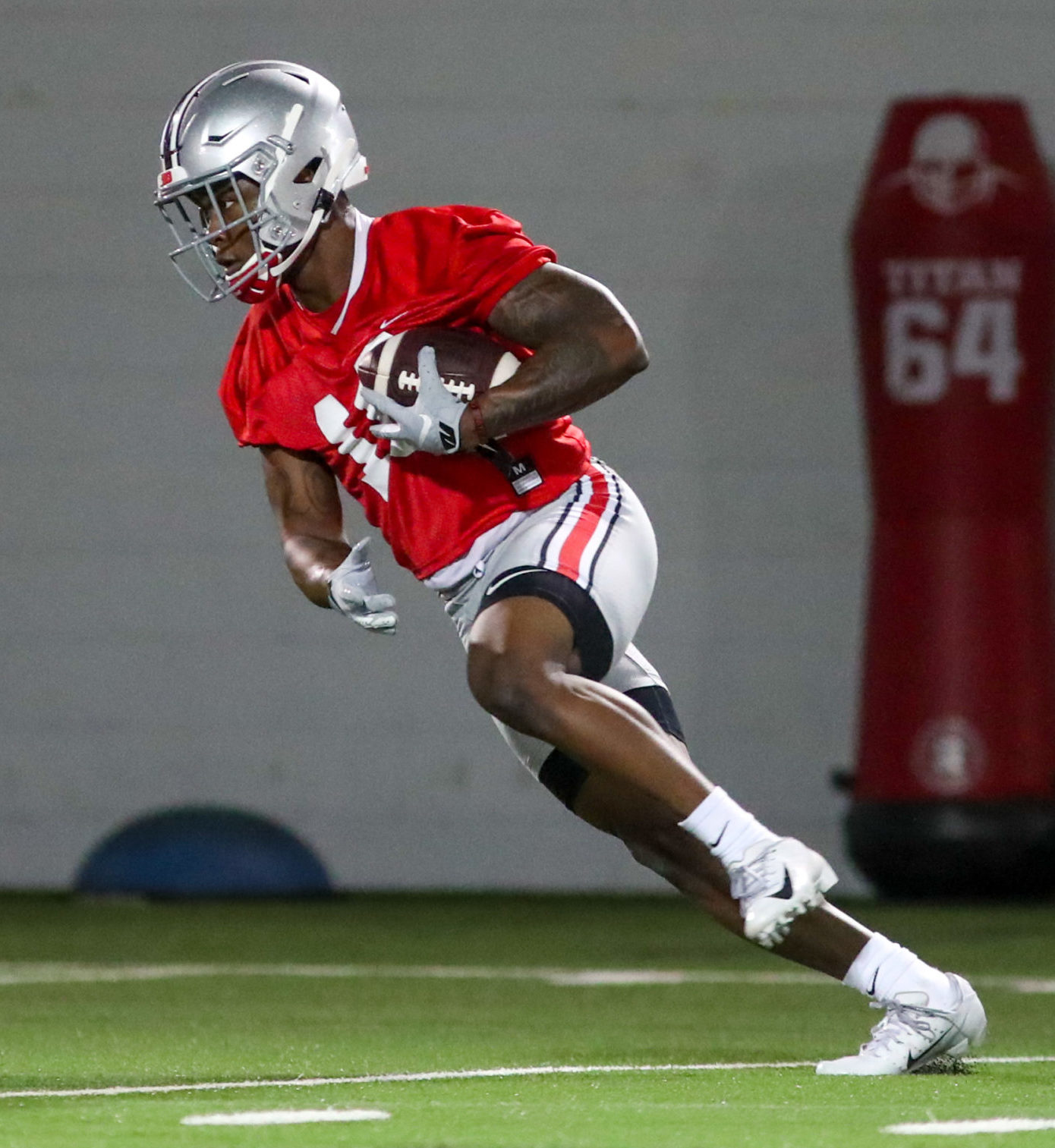 Following a one-week hiatus, Ohio State returned to the Amway Coaches Poll on Sunday afternoon.
. @ClemsonFB maintains its hold on No. 1 in the latest @AmwayUS Coaches Poll, which includes the return of the @bigten. https://t.co/pJ4JpRyAu9 pic.twitter.com/aaP019Bg7f

— USA TODAY Sports (@usatodaysports) September 20, 2020
The Buckeyes, who were ranked No. 2 in the preseason poll, fell out of the Top 25 last week thanks to the Big Ten's initial decision to postpone fall sports. But now that the conference announced it will resume the season on Oct. 24, Ohio State is back at No. 10.
Though they received two first-place votes, the Buckeyes now trail eight teams who were behind them in the preseason poll, including five SEC programs who haven't played a game this fall. Ohio State does lead all Big Ten teams, however, with Penn State (No. 13), Wisconsin (17), Michigan (19) and Minnesota also in the Top 25.
The Buckeyes were not ranked in Sunday's AP Poll, which will once again include teams from the Big Ten following next week's slate of games.
 

| RANK | TEAM | RECORD | PTS | FIRST-PLACE VOTES | PREVIOUS | CHANGE |
| --- | --- | --- | --- | --- | --- | --- |
| 1 | CLEMSON | 2–0 | 1196 | 44 | 1 | — |
| 2 | ALABAMA | 0–0 | 1119 | 1 | 2 | — |
| 3 | OKLAHOMA | 1–0 | 1019 | – | 3 | — |
| 3 | GEORGIA | 0–0 | 1019 | – | 4 | +1 |
| 5 | LSU | 0–0 | 962 | 1 | 5 | — |
| 6 | FLORIDA | 0–0 | 899 | – | 6 | — |
| 7 | NOTRE DAME | 2–0 | 896 | – | 7 | — |
| 8 | AUBURN | 0–0 | 766 | – | 9 | +1 |
| 9 | TEXAS | 1–0 | 764 | – | 8 | -1 |
| 10 | OHIO STATE | 0–0 | 741 | 2 | NR | — |
| 11 | TEXAS A&M | 0–0 | 651 | – | 10 | -1 |
| 12 | NORTH CAROLINA | 1–0 | 563 | – | 11 | -1 |
| 13 | PENN STATE | 0–0 | 536 | – | NR | — |
| 14 | MIAMI | 2–0 | 500 | – | 18 | +4 |
| 15 | UCF | 1–0 | 497 | – | 13 | -2 |
| 16 | CINCINNATI | 1–0 | 416 | – | 14 | -2 |
| 17 | WISCONSIN | 0–0 | 411 | – | NR | — |
| 18 | OKLAHOMA STATE | 1–0 | 315 | – | 12 | -6 |
| 19 | MICHIGAN | 0–0 | 287 | – | NR | — |
| 20 | MEMPHIS | 1–0 | 269 | – | 15 | -5 |
| 21 | TENNESSEE | 0–0 | 266 | – | 17 | -4 |
| 22 | MINNESOTA | 0–0 | 178 | – | NR | — |
| 23 | BYU | 1–0 | 177 | – | 22 | -1 |
| 24 | VIRGINIA TECH | 0–0 | 167 | – | 19 | -5 |
| 25 | LOUISIANA | 2–0 | 158 | – | 21 | -4 |
For four free issues of the biweekly print edition of Buckeye Sports Bulletin, sign up at the link below. No credit card required: http://www.buckeyesports.com/subscribe-4issue-trial/