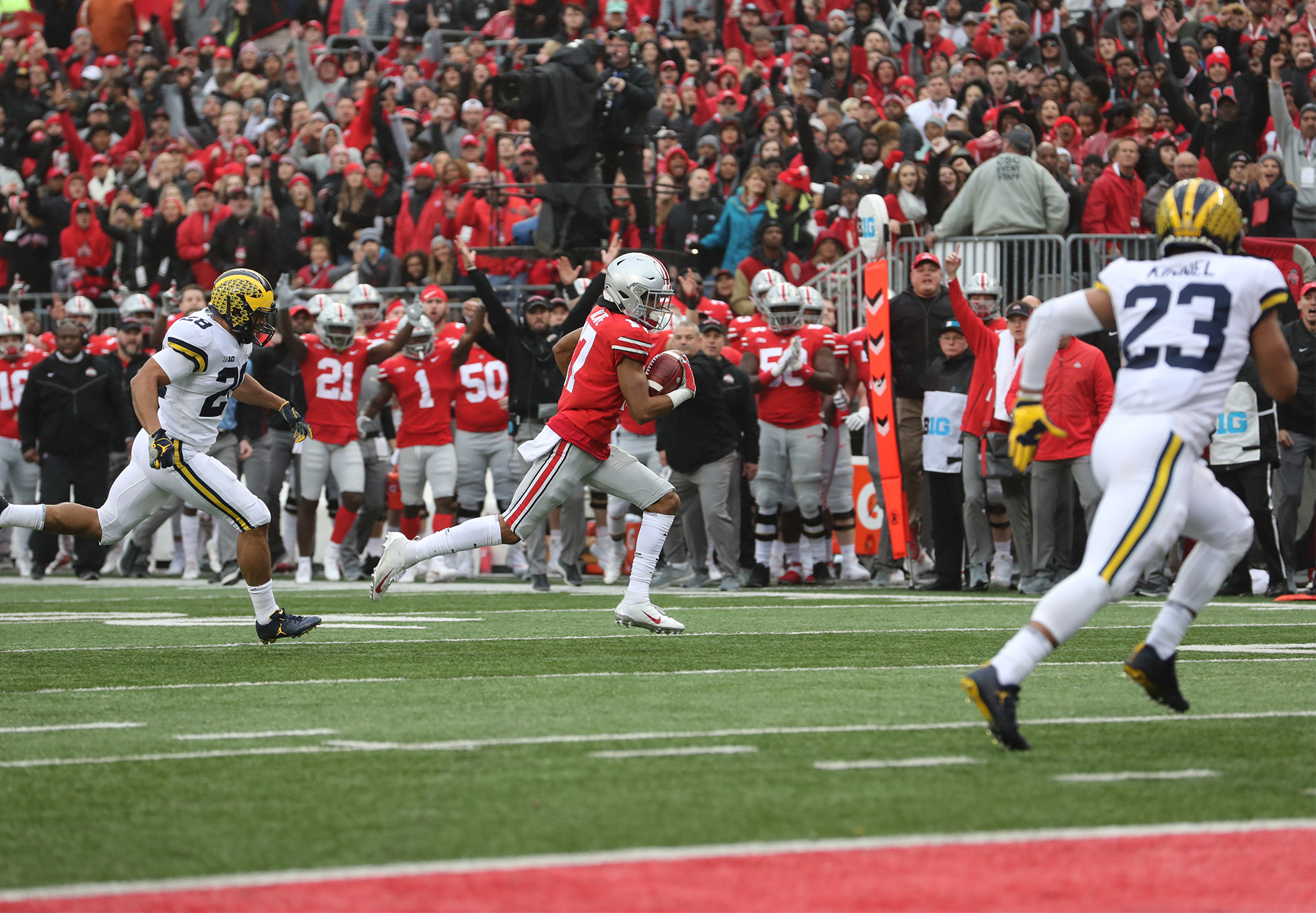 With one game remaining before selection Sunday, Ohio State still has some ground to make up in in the College Football Playoff picture.
The Buckeyes, coming off a 62-39 shellacking of then-No. 4 Michigan, moved up four spots to No. 6 in the College Football Playoff standings, which were announced Tuesday night on ESPN. Ohio State (11-1) is behind No. 1 Alabama (12-0), No. 2 Clemson (12-0), No. 3 Notre Dame (12-0), No. 4 Georgia (11-1) and No. 5 Oklahoma (11-1).
Michigan fell three spots to No. 7 in the latest rankings.
Ohio State has one more chance to impress the CFP selection committee in the Big Ten championship game on Saturday in Indianapolis against No. 21 Northwestern (8-4). The Buckeyes and Wildcats kick off at 8 p.m., which means they will in all likelihood already know the outcome of Oklahoma's Big 12 championship showdown with No. 14 Texas (9-3), which is the only team to beat the Sooners so far this year. Oklahoma and the Longhorns kick off at noon Saturday in Arlington, Texas, on ABC.
Alabama and Georgia face off in the SEC title game Saturday at 4 p.m. in Atlanta on CBS while Clemson faces unranked Pittsburgh (7-5) in the ACC championship at the same time as the Big Ten title game. Clemson's matchup with the Panthers will be broadcast on ABC.
Notre Dame, which is not part of a conference, doesn't have another game until the playoffs (assuming the Fighting Irish are selected by the committee).
College Football Playoff Rankings
Alabama (12-0)
Clemson (12-0)
Notre Dame (12-0)
Georgia (11-1)
Oklahoma (11-1)
Ohio State (11-1)
Michigan (10-2)
UCF (11-0)
Florida (9-3)
LSU (9-3)
Washington (9-3)
Penn State (9-3)
Washington State (10-2)
Texas (9-3)
Kentucky (9-3)
West Virginia (8-3)
Utah (9-3)
Mississippi State (8-4)
Texas A&M (8-4)
Syracuse (9-3)
Northwestern (8-4)
Boise State (10-2)
Iowa State (7-4)
Missouri (8-4)
Fresno State (10-2)