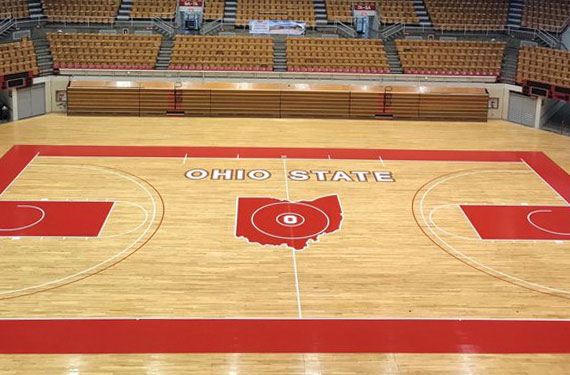 Built in 1956, St. John Arena was home to the Ohio State men's basketball program until the Schottenstein Center opened in 1998.
The Buckeyes have played seven games inside the historic venue in the years since, winning all seven, including games in each of the last two seasons against Cleveland State and Kent State, respectively.
A quick glance at the non-conference schedule shows that Ohio State will not return to St. John Arena this season, and athletic director Gene Smith indicated in an interview with Buckeye Sports Bulletin on Monday morning the program has no plans to play a home game anywhere other than Value City Arena for the foreseeable future.
"I think it was just a special occasion," Smith said. "I doubt we'll go back. I just don't see it. This year, I think we have 16 home games. In the years we've had 19, 20 or 21 home games, it's easier to take one over there, but we're not going to be able to do that when we have 18 or less."
Rather than play home games against lesser opponents this fall, Ohio State will instead take part in the Battle 4 Atlantis in the Bahamas in late November. The Buckeyes will play three games in three days against a field that also includes Creighton, Duke, Memphis, Texas A&M, Utah, West Virginia and Wichita State. 
Ohio State will also participate in the annual ACC-Big Ten Challenge against a to-be-determined opponent and the CBS Sports Classic against North Carolina in December, while future non-conference schedules include the Fort Myers Tip-Off (2021) and Maui Invitational (2022).
"When we're playing in these big events, it makes it very difficult to go back to when we're playing 19, 20, 21 home games," Smith said. "We need at least 18 home games in the Schott if we can get them, so it's going to be very hard for us to go over to St. John. We did take a hit when we went over there last year, and I just can't do that again."
Ohio State is scheduled to open its 122nd season of play against Oakland on Nov. 11. It will be the third meeting all time between the two programs, with the Buckeyes most recently knocking off the Golden Grizzlies, 92-63, on Dec. 23, 2010.
To read our interview with Smith in its entirety, sign up for four free print editions of Buckeye Sports Bulletin at the link below. No credit card required: http://www.buckeyesports.com/subscribe-4issue-trial/