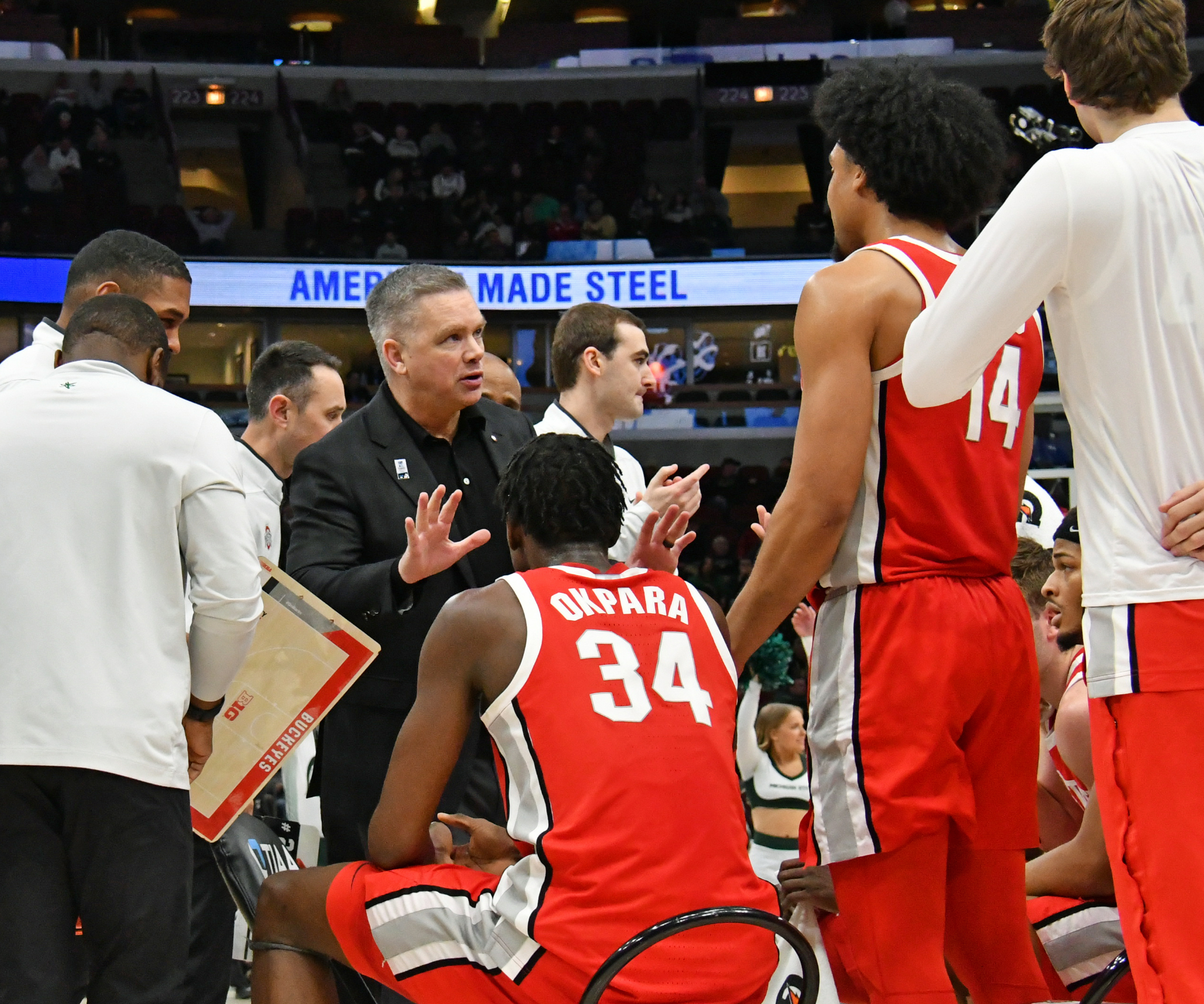 The Ohio State men's basketball team's conference schedule was solidified on Tuesday, as the Big Ten announced a 20-game slate for the Buckeyes that includes a number of intriguing matchups.
Ohio State kicks off its Big Ten schedule with a home matchup against Minnesota on Dec. 3, the sole team that finished behind them in last season's conference standings. The Buckeyes will then travel to Penn State on Dec. 9 to close out their 2023 slate. 
After a nearly month-long break, Ohio State will then face the meat of its conference schedule after New Year's, starting with a home game against Rutgers on Jan. 3. The Buckeyes will travel to Indiana on Jan. 6 and welcome Wisconsin to Value City Arena on Jan. 10 before they face off against arch-rival Michigan for the first time this season on Jan. 15th at the Wolverines' Crisler Center. This is the first game of a home-and-home series between the two programs that concludes on March 3 — Ohio State's home finale.
Following home games against Penn State (Jan. 20) and Illinois (Jan. 30) and road trips to Nebraska (Jan. 23), Northwestern (Jan. 27), the Buckeyes will endure a difficult eight-game slate in February that is headlined by a home contest with reigning Big Ten regular-and-postseason champions Purdue on Feb. 18 and a road bout against Naismith Hall of Famer Tom Izzo's Michigan State Spartans on Feb. 25. After the aforementioned home finale against the Wolverines on March 3, Ohio State will close their conference schedule in Piscataway, New Jersey for a battle with Rutgers on March 10, before heading to Minneapolis, Minn. to compete in the Big Ten Tournament held from March 13-17.
Ohio State and seventh-year head coach Chris Holtmann will look to rebound following a disappointing 2022-23 campaign where they dropped 15 of their 20 Big Ten games and finished second-to-last in the conference. Despite the subpar play in the regular season, the Buckeyes finished their conference schedule strong in March, knocking off Wisconsin, Iowa and Michigan State in three straight days to reach the semifinals of the Big Ten Tournament as the No. 13 seed.
Ohio State will kick off its 2023-24 season on Nov. 6 when it welcomes Oakland to Value City Arena, part of a difficult 11-game non-conference schedule that is headlined by matchups with Texas A&M (Nov. 10), Alabama (Nov. 24), UCLA (Dec. 16) and West Virginia (Dec. 30). The Buckeyes will also head to Dayton's UD Arena on Oct. 22 for a charity exhibition game with the Flyers, part of a two-day event between the two programs that aims to raise awareness towards adolescent and young adult mental health and suicide prevention.
Below is the Buckeyes' full 2023-24 schedule. Times of all but two games are to be determined.
Oct. 22 – @Dayton
Nov. 6 – Oakland
Nov. 10 – Texas A&M
Nov. 15 – Merrimack
Nov. 19 – Western Michigan (Emerald Coast Classic – at home)
Nov. 24 – Alabama, 7 p.m. (Emerald Coast Classic – in Niceville, Fla.)
Nov. 25 – Oregon/Santa Clara (Emerald Coast Classic – in Niceville, Fla.)
Nov. 29 – Central Michigan
Dec. 3 – Minnesota
Dec. 6 – Miami (Ohio)
Dec. 9 – @Penn State
Dec. 16 – UCLA, 3 p.m. (CBS Sports Classic in Atlanta, Ga.)
Dec. 21 – New Orleans
Dec. 30 – West Virginia (in Cleveland, Ohio)
Jan. 3 – Rutgers
Jan. 6 – @Indiana
Jan 10 – Wisconsin
Jan. 15 – @Michigan
Jan 20 – Penn State
Jan. 23 – @Nebraska
Jan. 27 – @Northwestern
Jan. 30 – Illinois
Feb. 2 – Iowa
Feb. 6 – Indiana
Feb. 10 – Maryland
Feb. 13 – Wisconsin
Feb. 18 – Purdue
Feb. 19 – @Minnesota
Feb. 25 – @Michigan State
Feb. 29 – Nebraska
March 3 – Michigan
March 10 – @Rutgers
March 13-17 – Big Ten Tournament (in Minneapolis, Minn.)