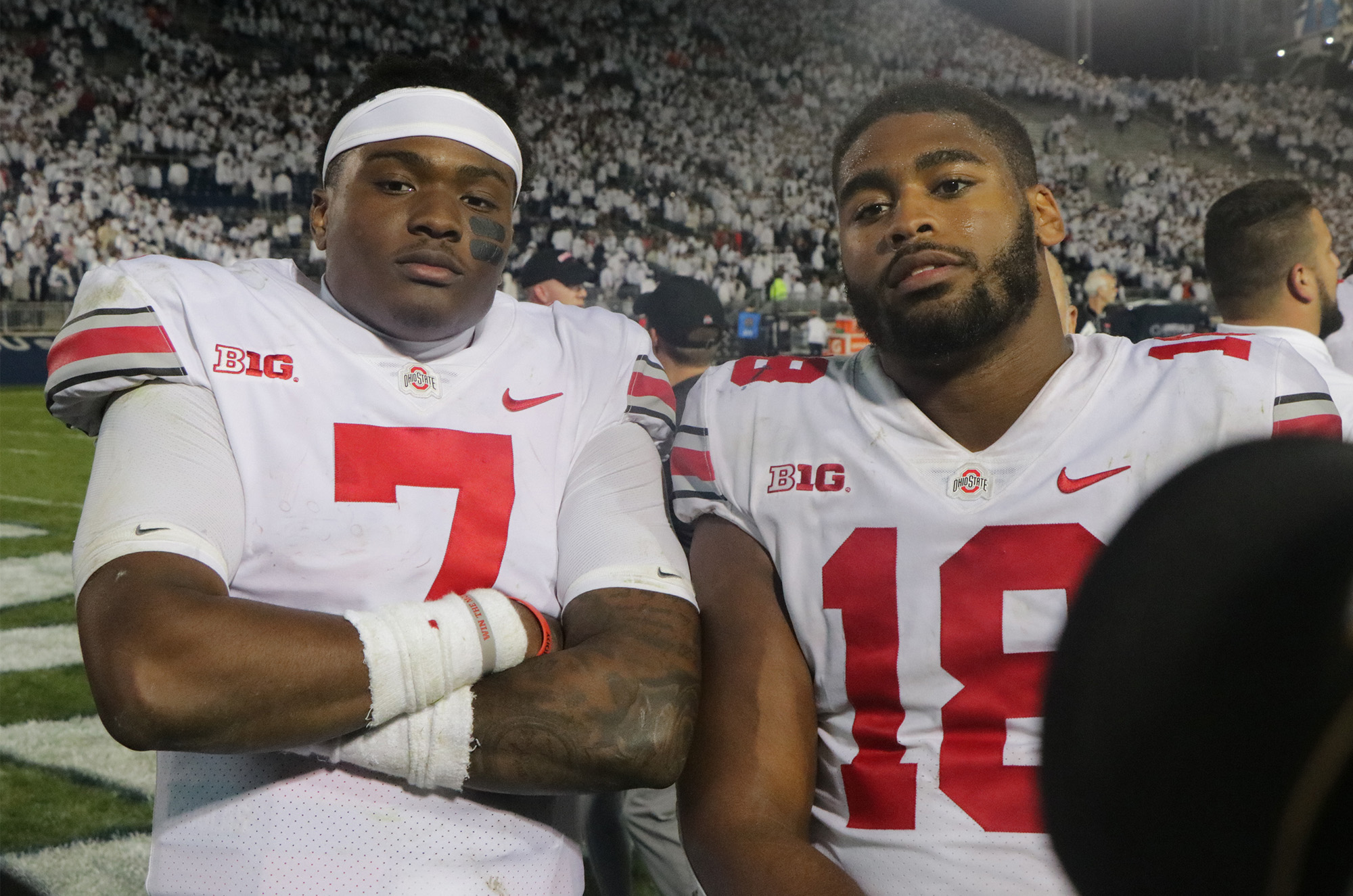 After Ohio State's 27-26 victory against Penn State, the Buckeyes bumped up a spot in each of the latest national polls — the Amway Coaches Poll and the AP Top 25.
For week six, the Buckeyes (5-0, 2-0 Big Ten) boast the No. 3 spot with one first-place vote. OSU inched up a spot over Clemson, which fell from No. 3 to No. 4 after the Tigers survived a 27-23 scare from Syracuse.
Ahead of Clemson and Ohio State, the SEC reigns over the top two spots between as No. 2 Georgia and No. 1 Alabama remain in front.
The Crimson Tide took 58 of the 60 first-place votes, while the other two were split between the Buckeyes and then the Tigers.
Aside from OSU, four Big Ten programs remain ranked in both polls. Down two spots, the No. 11 Nittany Lions slid slightly after their first loss of the season.
No. 15 Michigan and No. 16 Wisconsin each fell back a slot, while No. 20 Michigan State bumped up one. Iowa (34) and Maryland (10) continue to receive votes.
The rest of the updated AP Top 25 is embedded below.
AP Poll

| RANK | TEAM | RECORD | PTS | 1st VOTES | PREV |
| --- | --- | --- | --- | --- | --- |
| 1 | ALABAMA | 5-0 | 1,497 | 58 | 1 |
| 2 | GEORGIA | 5-0 | 1,405 | – | 2 |
| 3 | OHIO STATE | 5-0 | 1,395 | 1 | 4 |
| 4 | CLEMSON | 5-0 | 1,278 | 1 | 3 |
| 5 | LSU | 5-0 | 1,233 | – | 5 |
| 6 | NOTRE DAME | 5-0 | 1,216 | – | 8 |
| 7 | OKLAHOMA | 5-0 | 1,193 | – | 6 |
| 8 | AUBURN | 4-1 | 1,002 | – | 10 |
| 9 | WEST VIRGINIA | 4-0 | 998 | – | 12 |
| 10 | WASHINGTON | 4-1 | 978 | – | 11 |
| 11 | PENN STATE | 4-1 | 920 | – | 9 |
| 12 | UCF | 4-0 | 759 | – | 13 |
| 13 | KENTUCKY | 5-0 | 707 | – | 17 |
| 14 | STANFORD | 4-1 | 700 | – | 7 |
| 15 | MICHIGAN | 4-1 | 687 | – | 14 |
| 16 | WISCONSIN | 3-1 | 642 | – | 15 |
| 17 | MIAMI (FL) | 4-1 | 600 | – | 16 |
| 18 | OREGON | 4-1 | 462 | – | 19 |
| 19 | TEXAS | 4-1 | 403 | – | 18 |
| 20 | MICHIGAN STATE | 3-1 | 281 | – | 21 |
| 21 | COLORADO | 4-0 | 225 | – | – |
| 22 | FLORIDA | 4-1 | 210 | – | – |
| 23 | NORTH CAROLINA STATE | 4-0 | 118 | – | – |
| 24 | VIRGINIA TECH | 3-1 | 89 | – | – |
| 25 | OKLAHOMA STATE | 4-1 | 88 | – | – |