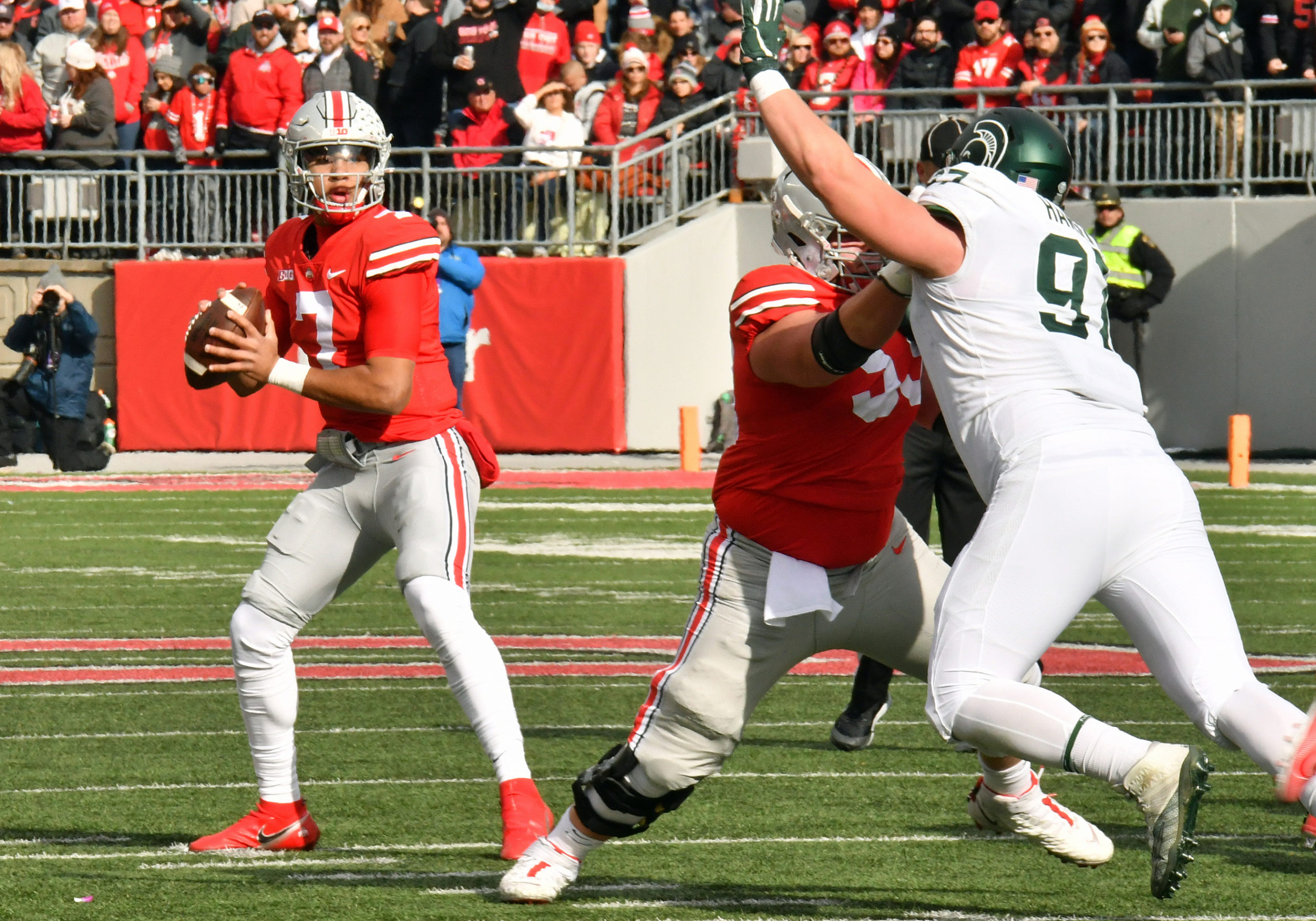 The Game will be a battle of two top-five teams.
With the latest College Football Playoff rankings, Ohio State's rivalry matchup with Michigan will officially be a top-five showdown as the Buckeyes climb to No. 2 in the rankings, with the Wolverines checking in at No. 5.
The No. 3 vs. No. 5 matchup will be the highest-rated showdown in the rivalry since No. 2 Ohio State hosted No. 3 Michigan in 2016. Thanks to a game-winning touchdown from wide receiver Curtis Samuel, the Buckeyes won the game 30-27 in double overtime.
Ohio State moves up to No. 2 in the rankings after a 56-7 blowout win over previous No. 7 Michigan State. The Spartans fell outside the top 10 to No. 12.
Here are the full rankings:
| RANK # | TEAM | RECORD |
| --- | --- | --- |
| 1 | Georgia (SEC) | 11-0 |
| 2 | Ohio State (Big Ten) | 10-1 |
| 3 | Alabama (SEC) | 10-1 |
| 4 | Cincinnati (AAC) | 11-0 |
| 5 | Michigan (Big Ten) | 10-1 |
| 6 | Notre Dame (Independent) | 10-1 |
| 7 | Oklahoma State (Big 12) | 10-1 |
| 8 | Baylor (Big 12) | 9-2 |
| 9 | Mississippi (SEC) | 9-2 |
| 10 | Oklahoma (Big 12) | 10-1 |
| 11 | Oregon (Pac 12) | 9-2 |
| 12 | Michigan State (Big Ten) | 9-2 |
| 13 | BYU (Independent) | 9-2 |
| 14 | Wisconsin (Big Ten) | 8-3 |
| 15 | Texas A&M (SEC) | 8-3 |
| 16 | Iowa (Big Ten) | 9-2 |
| 17 | Pittsburgh (ACC) | 9-2 |
| 18 | Wake Forest (ACC) | 9-2 |
| 19 | Utah (Pac 12) | 8-3 |
| 20 | NC State (ACC) | 8-3 |
| 21 | San Diego State (MWC) | 10-1 |
| 22 | UTSA (C-USA) | 11-0 |
| 23 | Clemson (ACC) | 8-3 |
| 24 | Houston (AAC) | 10-1 |
| 25 | Arkansas (SEC) | 7-4 |