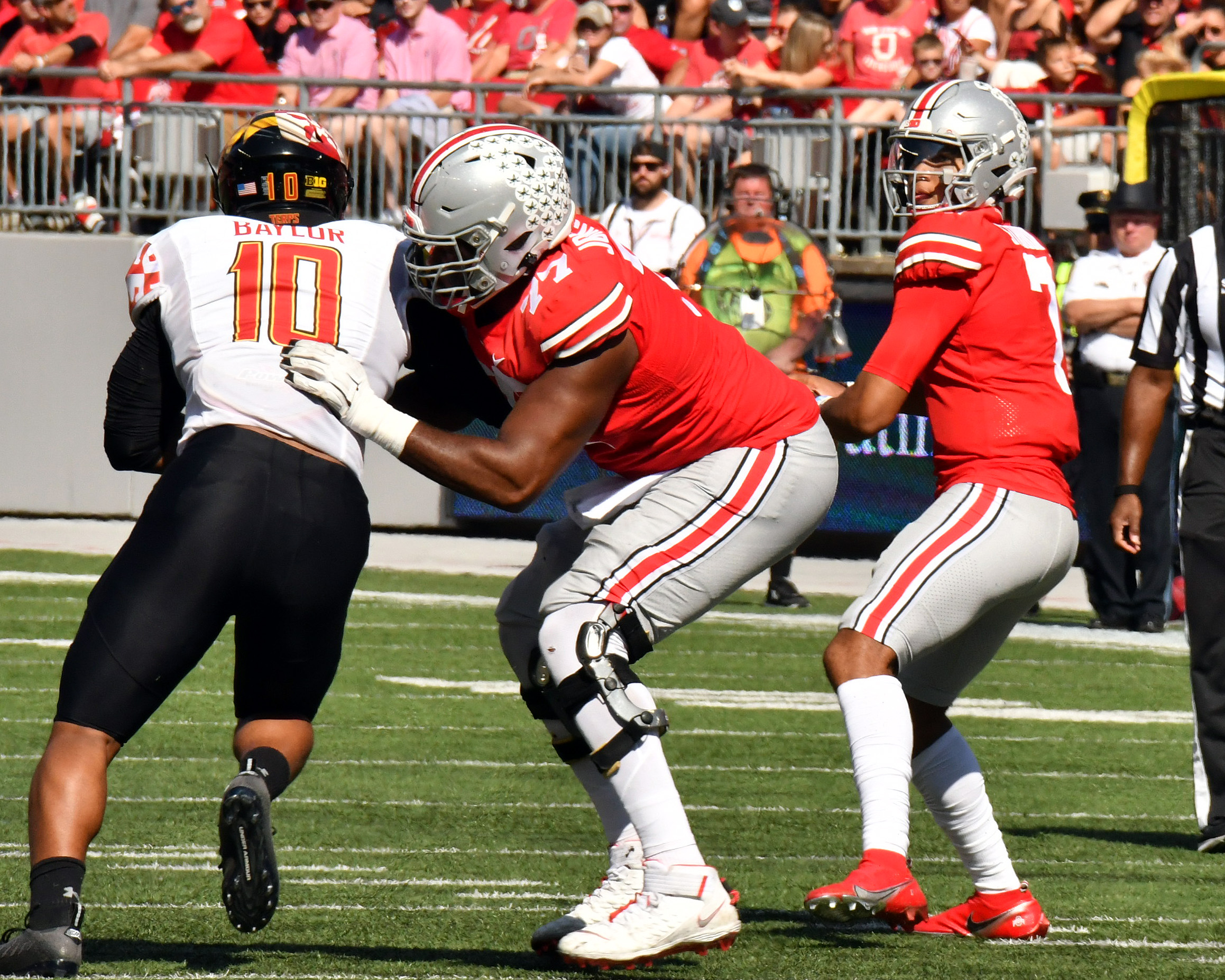 After Ohio State's 55-17 rout of Maryland and numerous upsets in college football, the Buckeyes moved up one spot to No. 6 in the AP Top 25 poll, joining Iowa, Penn State, Michigan and Michigan State in becoming the first conference in college football history to feature five teams in the top 10.
Ohio State sits right behind Alabama, which fell to unranked Texas A&M in a Saturday night showdown in College Station, Texas. Because of the upset win, the Aggies found themselves back in the polls this week, checking in at No. 21.
Iowa is the highest-ranked Big Ten team at No. 2 after the Hawkeyes outlasted then-No. 4 Penn State, 23-20, at Kinnick Stadium in Iowa City. The Nittany Lions fell to No. 7 after the loss. Michigan moved in front of Oregon in this week's poll, claiming the No. 8 spot, while Michigan State ascended one spot to No. 10 because of Bringham Young's loss to Boise State.
Georgia received all 62 votes to become the top-ranked team in the country. Iowa, Cincinnati, Oklahoma and Alabama round out the top five, while Ohio State, Penn State, Michigan, Oregon and Michigan State fill the top 10 spots.
There are also some undefeated teams outside of the top 10 who deserve recognition, including No. 11 Kentucky (6-0), No. 12 Oklahoma State (5-0), No. 15 Coastal Carolina (6-0), No. 16 Wake Forest (6-0), No. 23 SMU (6-0) and No. 24 San Diego State (5-0).
Ohio State still has Penn State, Michigan State and Michigan on their schedule this season, and could face Iowa in the Big Ten Championship should both teams win out. The Buckeyes have a difficult road in front of them; however, if they can win each game, they will undoubtedly have one of the strongest résumés in college football.
Here are the full rankings:
| RANK | TEAM | RECORD | PTS | PREV | CONFERENCE |
| --- | --- | --- | --- | --- | --- |
| 1 | GEORGIA | 6–0 | 1,550 (62) | 2 | SEC |
| 2 | IOWA | 6–0 | 1,476 | 3 | Big Ten |
| 3 | CINCINNATI | 5–0 | 1,407 | 5 | American Athletic |
| 4 | OKLAHOMA | 6–0 | 1,336 | 6 | Big 12 |
| 5 | ALABAMA | 5–1 | 1,286 | 1 | SEC |
| 6 | OHIO STATE | 5–1 | 1,157 | 7 | Big Ten |
| 7 | PENN STATE | 5–1 | 1,147 | 4 | Big Ten |
| 8 | MICHIGAN | 6–0 | 1,139 | 9 | Big Ten |
| 9 | OREGON | 4–1 | 1,057 | 8 | Pac-12 |
| 10 | MICHIGAN STATE | 6–0 | 992 | 11 | Big Ten |
| 11 | KENTUCKY | 6–0 | 918 | 16 | SEC |
| 12 | OKLAHOMA STATE | 5–0 | 830 | 12 | Big 12 |
| 13 | OLE MISS | 4–1 | 779 | 17 | SEC |
| 14 | NOTRE DAME | 5–1 | 732 | 14 | IA Independents |
| 15 | COASTAL CAROLINA | 6–0 | 712 | 15 | Sun Belt |
| 16 | WAKE FOREST | 6–0 | 526 | 19 | ACC |
| 17 | ARKANSAS | 4–2 | 470 | 13 | SEC |
| 18 | ARIZONA STATE | 5–1 | 428 | 22 | Pac-12 |
| 19 | BRIGHAM YOUNG | 5–1 | 421 | 10 | IA Independents |
| 20 | FLORIDA | 4–2 | 397 | 20 | SEC |
| 21 | TEXAS A&M | 4–2 | 348 | – | SEC |
| 22 | NORTH CAROLINA STATE | 4–1 | 265 | 23 | ACC |
| 23 | SMU | 6–0 | 225 | 24 | American Athletic |
| 24 | SAN DIEGO STATE | 5–0 | 176 | 25 | Mountain West |
| 25 | TEXAS | 4–2 | 108 | 21 | Big 12 |