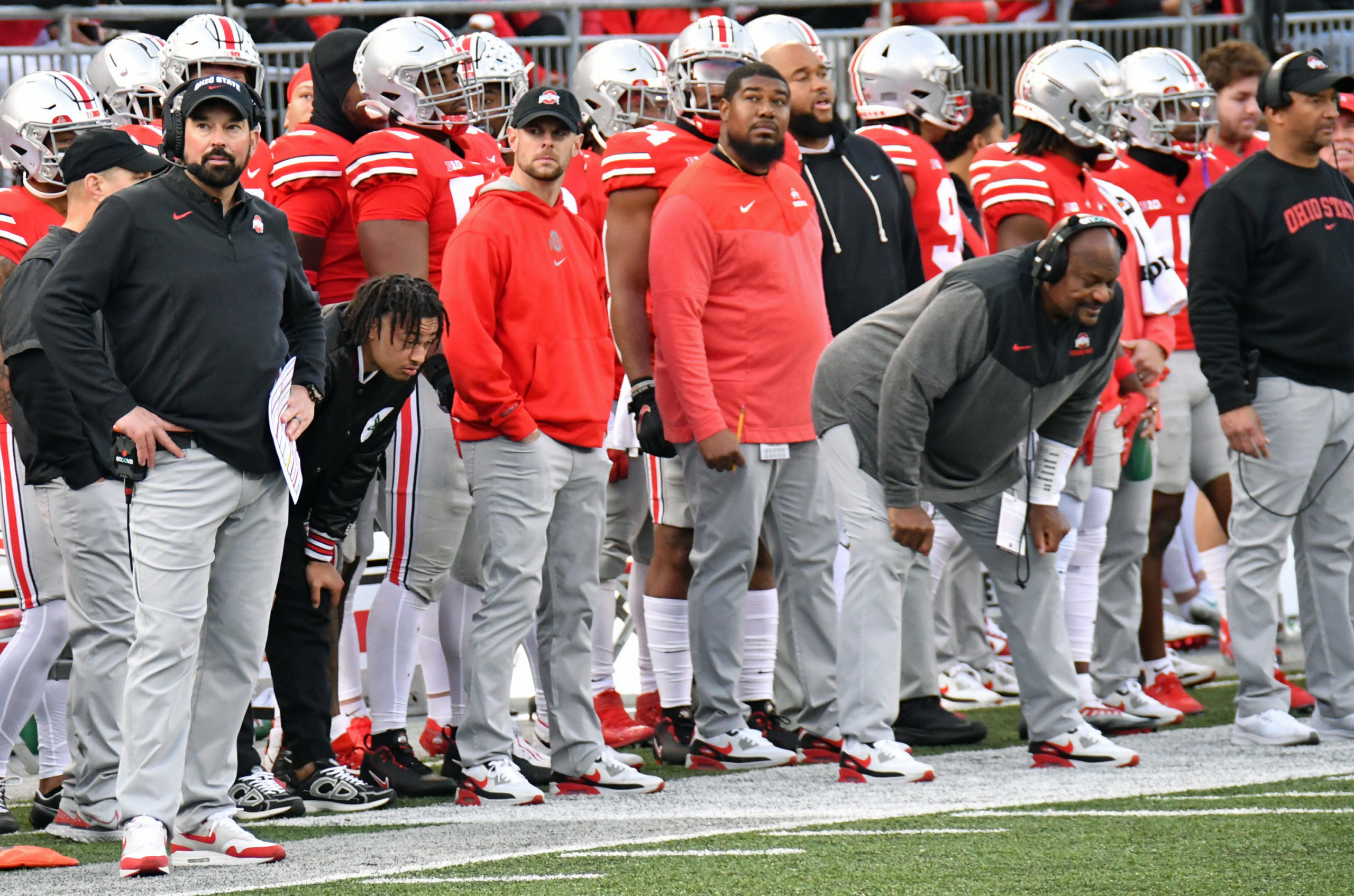 After falling to Michigan last weekend and dropping to 11-1 on the season, Ohio State fell to No. 5 in the most recent College Football Playoff rankings released Tuesday.
The Buckeyes checked in at No. 5 behind No. 4 USC, No. 3 TCU, No. 2 Michigan and No. 1 Georgia. Ohio State is ahead of No. 6 Alabama, and the top 10 is rounded out by No. 7 Tennessee, No. 8 Penn State – who the Buckeyes hold a win over – No. 9 Clemson and No. 10 Kansas State.
The other notable ranking is No. 21 Notre Dame, which remains a ranked win for Ohio State. With Georgia and Michigan having likely locked up spots in the final rankings, the Buckeyes would need some help from either TCU or USC, which will play against Kansas State and No. 11 Utah in their respective conference championship games, to earn a spot in the final four.
The final College Football Playoff rankings will be released Sunday following conference championship games being played on Saturday.
| | |
| --- | --- |
| Ranking | Team |
| No. 1 | Georgia (12-0) |
| No. 2 | Michigan (12-0) |
| No. 3 | TCU (12-0) |
| No. 4 | USC (11-1) |
| No. 5 | Ohio State (11-1) |
| No. 6 | Alabama (10-2) |
| No. 7 | Tennessee (10-2) |
| No. 8 | Penn State (10-2) |
| No. 9 | Clemson (10-2) |
| No. 10 | Kansas State (9-3) |
| No. 11 | Utah (9-3) |
| No. 12 | Washington (10-2) |
| No. 13 | Florida State (9-3) |
| No. 14 | LSU (9-3) |
| No. 15 | Oregon State (9-3) |
| No. 16 | Oregon (9-3) |
| No. 17 | UCLA (9-3) |
| No. 18 | Tulane (10-2) |
| No. 19 | South Carolina (8-4) |
| No. 20 | Texas (8-4) |
| No. 21 | Notre Dame (8-4) |
| No. 22 | UCF (9-3) |
| No. 23 | North Carolina (9-3) |
| No. 24 | Mississippi State (8-4) |
| No. 25 | NC State (8-4) |