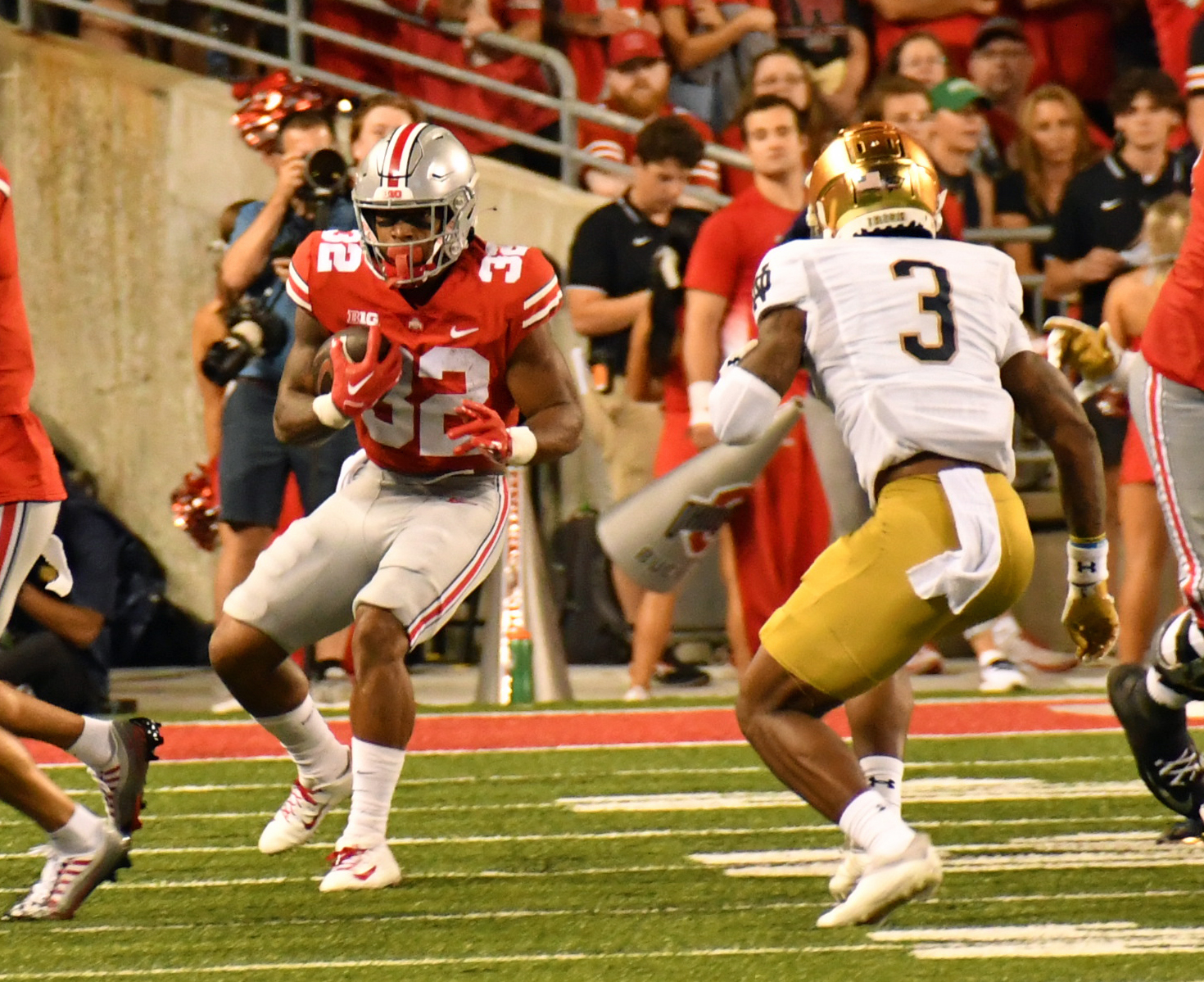 Following Ohio State's 21-10 win over Notre Dame to open the season, the Buckeyes found themselves dropping in the AP Top 25 poll entering the season week of the season.
Alabama stayed at No. 1 while Ohio State fell from No. 2 to No. 3, passed up by Georgia, who dominated then-No. 11 Oregon by a score of 49-3 in the first week of the season. The Crimson Tide received 44 first-place votes, followed by Georgia with 17 votes and Ohio State with two.
Ohio State's last opponent, Notre Dame, fell to No. 8 in the most recent poll. Elsewhere in the Big Ten, Michigan moved up to No. 4, Michigan State moved up to No. 14 and Wisconsin moved down to No. 19.
Others receiving votes include Oregon (131 votes), Penn State (122), Texas (118), Cincinnati (63), Florida State (42), Fresno State (22), UCF (22), Minnesota (22), Kansas State (18), Auburn (15), Mississippi State (10), Air Force (eight), Oregon State (five), North Carolina (three), South Carolina (two), Purdue (one), UCLA (one) and Arizona (one). The full poll can be viewed below:
| | | | |
| --- | --- | --- | --- |
| Rank | Team | Points | Change |
| No. 1 | Alabama (1-0) | 1,552 (44) | No Change |
| No. 2 | Georgia (1-0) | 1,511 (17) | +1 |
| No. 3 | Ohio State (1-0) | 1,471 (2) | -1 |
| No. 4 | Michigan (1-0) | 1,299 | +4 |
| No. 5 | Clemson (1-0) | 1,280 | -1 |
| No. 6 | Texas A&M (1-0) | 1,241 | No Change |
| No. 7 | Oklahoma (1-0) | 1,130 | +2 |
| No. 8 | Notre Dame (0-1) | 1,085 | -3 |
| No. 9 | Baylor (1-0) | 1,057 | +1 |
| No. 10 | USC (1-0) | 898 | +4 |
| No. 11 | Oklahoma State (1-0) | 818 | +1 |
| No. 12 | Florida (1-0) | 763 | Unranked |
| No. 13 | Utah (0-1) | 717 | -6 |
| No. 14 | Michigan State (1-0) | 690 | +1 |
| No. 15 | Miami (Fla.) (1-0) | 679 | +1 |
| No. 16 | Arkansas (1-0) | 678 | +3 |
| No. 17 | Pittsburgh (1-0) | 535 | No Change |
| No. 18 | NC State (1-0) | 513 | -5 |
| No. 19 | Wisconsin (1-0) | 476 | -1 |
| No. 20 | Kentucky (1-0) | 373 | No Change |
| No. 21 | BYU (1-0) | 266 | +4 |
| No. 22 | Ole Miss (1-0) | 254 | -1 |
| No. 23 | Wake Forest (1-0) | 246 | -1 |
| No. 24 | Tennessee (1-0) | 194 | Unranked |
| No. 25 | Houston (1-0) | 143 | -1 |