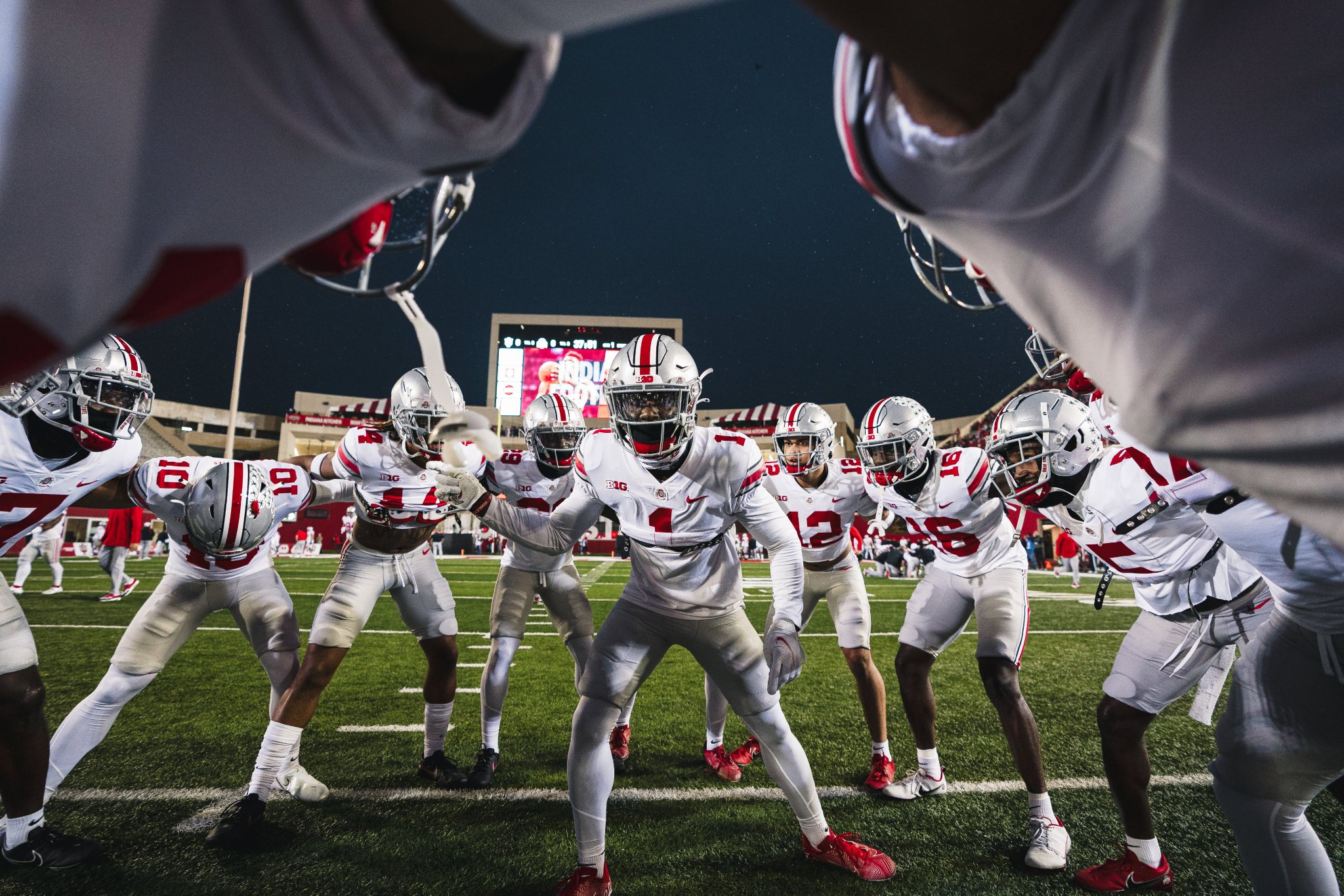 After a 33-24 win over Penn State on Oct. 30, Ohio State dropped to No. 6 in the latest Associated Press Top 25 poll.
The Buckeyes, the fifth-ranked team last week, sit behind a Michigan State team that beat then-No. 6 Michigan, 37-33, on Saturday evening. The Wolverines dropped three spots to No. 9 after the loss — their first of the season.
Georgia remains atop the rankings, followed by Cincinnati, Alabama and Oklahoma. The Bulldogs dismantled Florida and look poised to win their remaining regular-season games. Should they make it to the SEC Championship, Georgia would likely face Alabama or another highly-ranked opponent in a game that would solidify its spot in the College Football Playoff.
Michigan State, Ohio State, Oregon, Notre Dame, Michigan and undefeated Wake Forest round out the top 10.
The Demon Deacons continue to rise in the rankings and are the top team in the ACC this season. Wake Forest will face teams with two or more losses in each of its remaining games this year, including matchups with four-loss North Carolina and three-loss Clemson.
UTSA (8-0) is the only team outside the top 10 with an undefeated record. In their final four regular-season games, the No. 16 Roadrunners play UTEP, Southern Miss, University of Alabama-Birmingham and North Texas.
Ohio State will travel to Nebraska this week for a road matchup with the Cornhuskers before finishing up its final three games against Purdue, Michigan State and Michigan.
Here are the full rankings:
| RANK | TEAM | RECORD | PTS | PREV | CONFERENCE |
| --- | --- | --- | --- | --- | --- |
| 1 | GEORGIA | 8–0 | 1,575 (63) | 1 | SEC |
| 2 | CINCINNATI | 8–0 | 1,455 | 2 | American Athletic |
| 3 | ALABAMA | 7–1 | 1,413 | 3 | SEC |
| 4 | OKLAHOMA | 9–0 | 1,382 | 4 | Big 12 |
| 5 | MICHIGAN STATE | 8–0 | 1,340 | 8 | Big Ten |
| 6 | OHIO STATE | 7–1 | 1,296 | 5 | Big Ten |
| 7 | OREGON | 7–1 | 1,233 | 7 | Pac-12 |
| 8 | NOTRE DAME | 7–1 | 1,067 | 11 | IA Independents |
| 9 | MICHIGAN | 7–1 | 1,048 | 6 | Big Ten |
| 10 | WAKE FOREST | 8–0 | 1,025 | 13 | ACC |
| 11 | OKLAHOMA STATE | 7–1 | 915 | 15 | Big 12 |
| 12 | AUBURN | 6–2 | 853 | 18 | SEC |
| 13 | TEXAS A&M | 6–2 | 847 | 14 | SEC |
| 14 | BAYLOR | 7–1 | 833 | 16 | Big 12 |
| 15 | OLE MISS | 6–2 | 678 | 10 | SEC |
| 16 | UTSA | 8–0 | 460 | 23 | Conference USA |
| 17 | BRIGHAM YOUNG | 7–2 | 450 | 25 | IA Independents |
| 18 | KENTUCKY | 6–2 | 409 | 12 | SEC |
| 19 | IOWA | 6–2 | 342 | 9 | Big Ten |
| 20 | HOUSTON | 7–1 | 338 | – | American Athletic |
| 21 | COASTAL CAROLINA | 7–1 | 237 | 24 | Sun Belt |
| 22 | PENN STATE | 5–3 | 182 | 20 | Big Ten |
| 23 | SMU | 7–1 | 176 | 19 | American Athletic |
| 24 | LOUISIANA-LAFAYETTE | 7–1 | 161 | – | Sun Belt |
| 25 | FRESNO STATE | 7–2 | 151 | – | Mountain West |