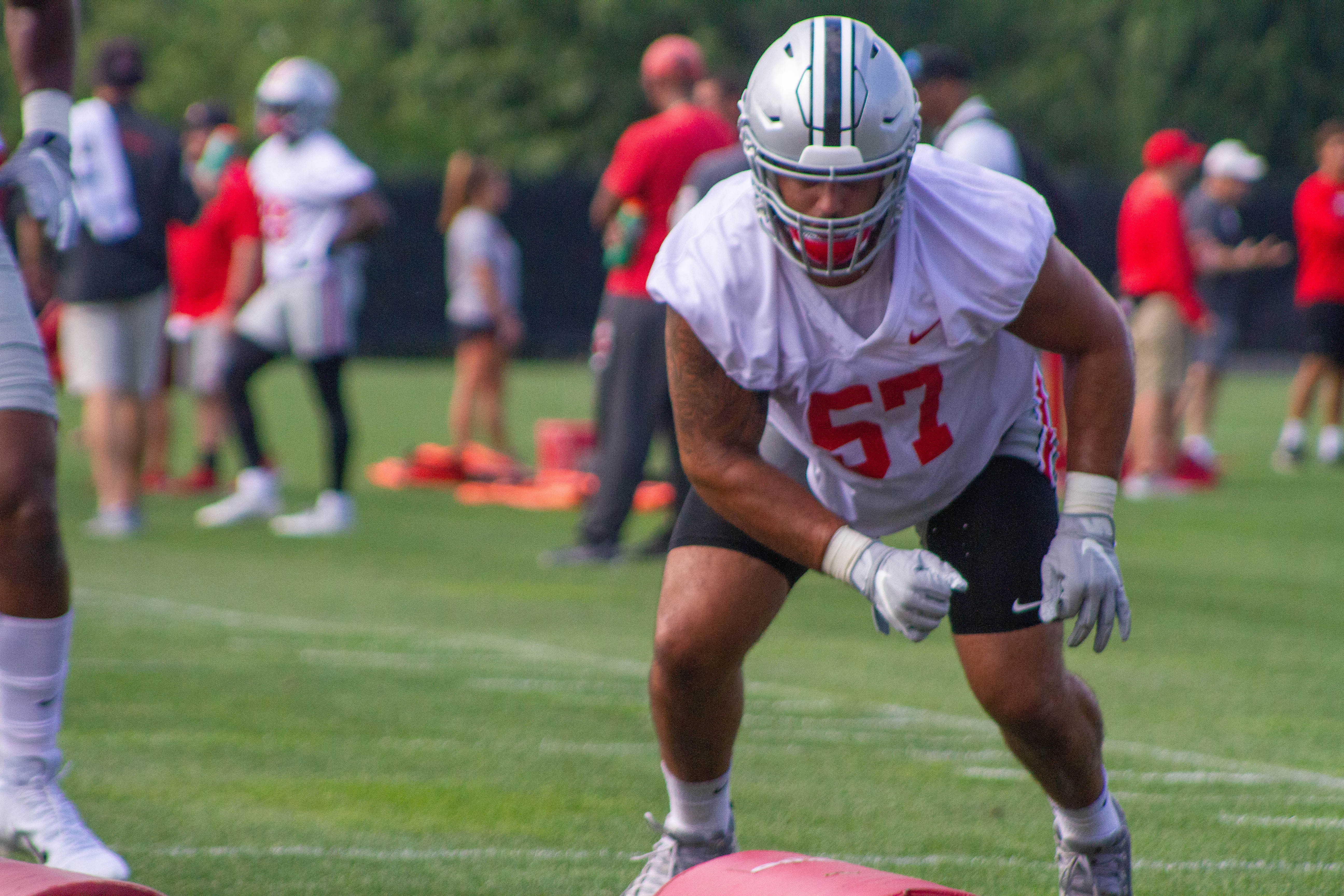 Ohio State redshirt freshman defensive tackle Zaid Hamdan became the latest Buckeyes to shed his black stripe following today's mock game in Ohio Stadium.
🚫▪️ STRIPE ALERT‼️ Congratulations @Zaid_Hamdan57 for getting your stripe off‼️#GoBucks #ToughLove pic.twitter.com/6KQ1FWPFD4

— Ohio State Football (@OhioStateFB) August 24, 2019
The 5-11, 260-pound Hamdan is a native of Mason, Ohio, who walked on to the Ohio State football program in January 2018. He earned all-state honors during his junior and senior seasons, and also qualified for the state tournament in wrestling his senior year.
"I want to shout out my unit," Hamdan said. "Thank you guys for getting me through everything. All my old heads — B.B. (Landers), Chase (Young), Davon (Hamilton) and Jashon (Cornell). I want to thank coach Mick(ey Marotti) for getting me right in the weight room every day.
"Let's get this next Saturday. Go Bucks!"
| NAME | POSITION | YEAR | DATE OF BLACK STRIPE REMOVAL |
| --- | --- | --- | --- |
| LOGAN HITTLE | LB | JR* | 3/21 |
| CADE KACHERSKI | LB | FR* | 3/21 |
| BEN SCHMIESING | LB | FR | 3/21 |
| JUSTIN FIELDS | QB | SO | 3/ 25 |
| DARRYL SINCLAIR | CB | SO* | 3/25 |
| MAX WRAY | OL | FR* | 4/1 |
| RYAN BATSCH | SAF | FR* | 4/1 |
| GARRETT WILSON | WR | FR | 4/8 |
| AUSTIN KUTSCHER | WR | FR* | 4/8 |
| ZACH HARRISON | DE | FR | 4/12 |
| JONAH JACKSON | OL | SR* | 8/6 |
| HARRY MILLER | C | FR | 8/8 |
| JAMESON WILLIAMS | WR | FR | 8/8 |
| RYAN JACOBY | OL | FR | 8/12 |
| MARCUS CROWLEY | RB | FR | 8/12 |
| CADE STOVER | LB | FR | 8/13 |
| BRYSON SHAW | SAF | FR | 8/15 |
| NOAH POTTER | DE | FR | 8/15 |
| STEELE CHAMBERS | RB | FR | 8/15 |
| CRAIG YOUNG | LB | FR | 8/19 |
| DANNY VANATSKY | QB | FR* | 8/19 |
| ZAID HAMDAN | DT | FR* | 8/24 |
*Redshirt