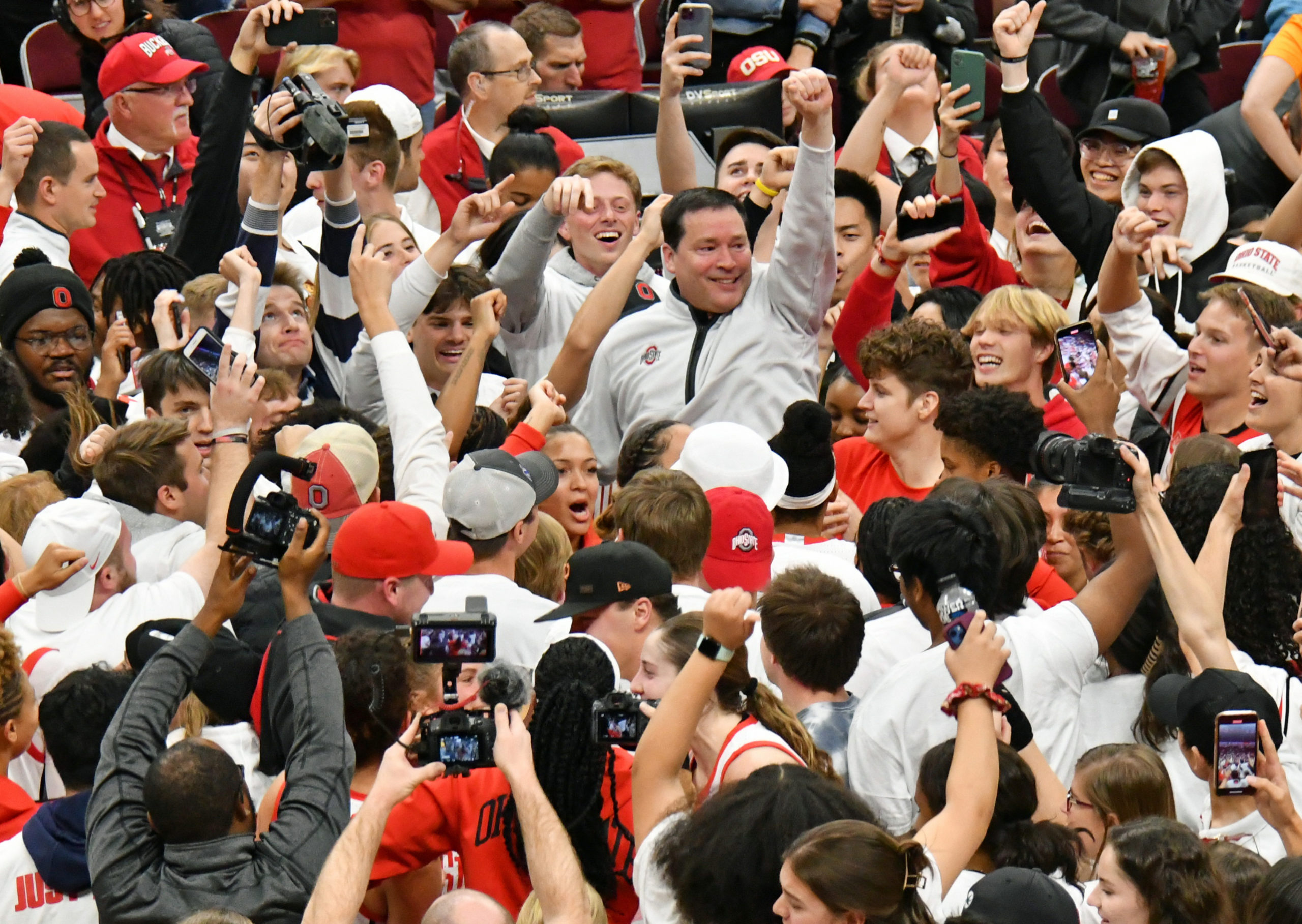 Ohio State's schedule for the upcoming season is now complete, as the program announced the team's full non-conference schedule on Oct. 3, while the Big Ten also announced the conference's tip off times.
After opening the season with a previously announced matchup against USC in Las Vegas on Nov. 6 at 2 p.m., the Buckeyes will return home to face IUPUI on Nov. 12 at 1 p.m.
Ohio State's non-conference schedule will continue with a home contest against Boston College on Nov. 16 at 7 p.m. before participating in the Baha Mars Pink Flamingo Championship in The Bahamas from Nov. 20-22, facing East Carolina and Oklahoma State.
The Buckeyes will then host Cornell on Nov. 26 at 1 p.m. before traveling to face Tennessee on Dec. 3 at 5 p.m., completing a home-and-home series that began last season. It will then host Ohio University on Dec. 5 at 7 p.m., Grand Valley State on Dec. 15 at 6 p.m. and UCLA on Dec. 18 at 6:30 p.m. in a likely top-10 matchup. The Buckeyes will close the non-conference slate against Belmont on Dec. 22 at 1 p.m.
Here is the full schedule, including announced tip off times and broadcast networks for Ohio State's upcoming season:
| Date | Opponent | Location | Time/Result | Network |
| --- | --- | --- | --- | --- |
| Nov. 6 | USC | Las Vegas (T-Mobile Arena) | 2 p.m. | TBA |
| Nov. 12 | IUPUI | Columbus | 1 p.m. | B1G+ |
| Nov. 16 | Boston College | Columbus | 7 p.m. | B1G+ |
| Nov. 20 | East Carolina (Pink Flamingo Championship) | Nassau, Bahamas | 1:30 p.m. | TBA |
| Nov. 22 | Oklahoma State (Pink Flamingo Championship) | Nassau, Bahamas | 6:30 p.m. | TBA |
| Nov. 26 | Cornell | Columbus | 1 p.m. | B1G+ |
| Dec. 5 | Ohio | Columbus | 7 p.m. | B1G+ |
| Dec. 10 | Penn State | Columbus | TBA | B1G+ |
| Dec. 15 | Grand Valley State | Columbus | 6 p.m. | B1G+ |
| Dec. 18 | UCLA | Columbus | 6:30 p.m. | FS1 |
| Dec. 22 | Belmont | Columbus | 1 p.m. | B1G+ |
| Dec. 30 | at Michigan | Ann Arbor, Mich. | 12 p.m. | FOX |
| Jan. 5 | at Northwestern | Evanston, Ill. | TBA | BIG+ |
| Jan. 11 | Rutgers | Columbus | 6 p.m. | BTN |
| Jan. 14 | Michigan State | Columbus | 12 p.m. or 4 p.m. | BTN |
| Jan. 17 | at Maryland | College Park, Md. | 7 p.m. | Peacock |
| Jan. 21 | Iowa | Columbus | 12 p.m. | NBC |
| Jan. 25 | at Illinois | Champaign, Ill. | 7 p.m. | Peacock |
| Jan. 28 | at Purdue | West Lafayette, Ind. | TBD | B1G+ |
| Feb. 1 | Wisconsin | Columbus | 6 p.m. | BTN |
| Feb. 4 | Indiana | Columbus | 12 p.m. | FS1 |
| Feb. 8 | at Minnesota | Minneapolis, Minn. | 9 p.m. | Peacock |
| Feb. 11 | at Michigan State | East Lansing, Mich. | 4 p.m. | Peacock |
| Feb. 14 | Nebraska | Columbus | 7 p.m. | Peacock |
| Feb. 22 | at Penn State | State College, Pa. | 6 p.m. | BTN |
| Feb. 25 | Maryland | Columbus | 2 p.m. | BTN |
| Feb. 28 | Michigan | Columbus | 7 p.m. | Peacock |
| March 3 | at Iowa | Iowa City, Iowa | 1 p.m. | FOX |
| March 6-10 | Big Ten Tournament | Minneapolis, Minn. | TBA | BTN/Peacock/CBS |