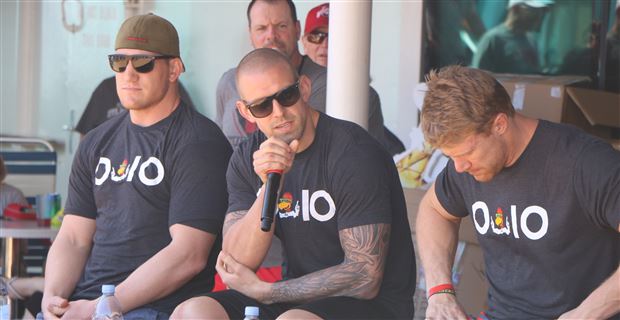 Ohio State announced on Monday its 2018 Athletics Hall of Fame class, headlined by former football Buckeye and legendary linebacker James Laurinaitis.
One of only eight three-time consensus All-Americans in program history from, Laurinaitis played for OSU from 2005-08. Anchoring the defense, he led Ohio State to two BCS championship appearances and set the record with 18 tackles in the 2018 title game against LSU.
Among his long list of accomplishments with the Scarlet and Gray, Laurinaitis became one of only three players in conference history to win Big Ten Defensive Player of the Year. On the national level, he won the Bronko Nagurski Award as a sophomore in 2006, given to the most outstanding defensive player in the country.
The group of 10 inductees includes Dick Bruggeman (men's track), Cassie Dickerson (women's soccer), Greg Drown (rifle), Linda Haussner (field hockey), Ray Hupp (men's track), Brian Koniecko (men's tennis), James Laurinaitis (football), Mike Pucillo (wrestling), Jerry Welsh (men's hockey) and Brandon Wynn (men's gymnastics).
After an official induction Sept. 7 during a dinner at the Ohio Union, the class will be introduced to the public Sept. 8 during halftime of Ohio State's home football game against Rutgers.
Tickets for the dinner are on sale for purchase at go.osu.edu/HOF2018.