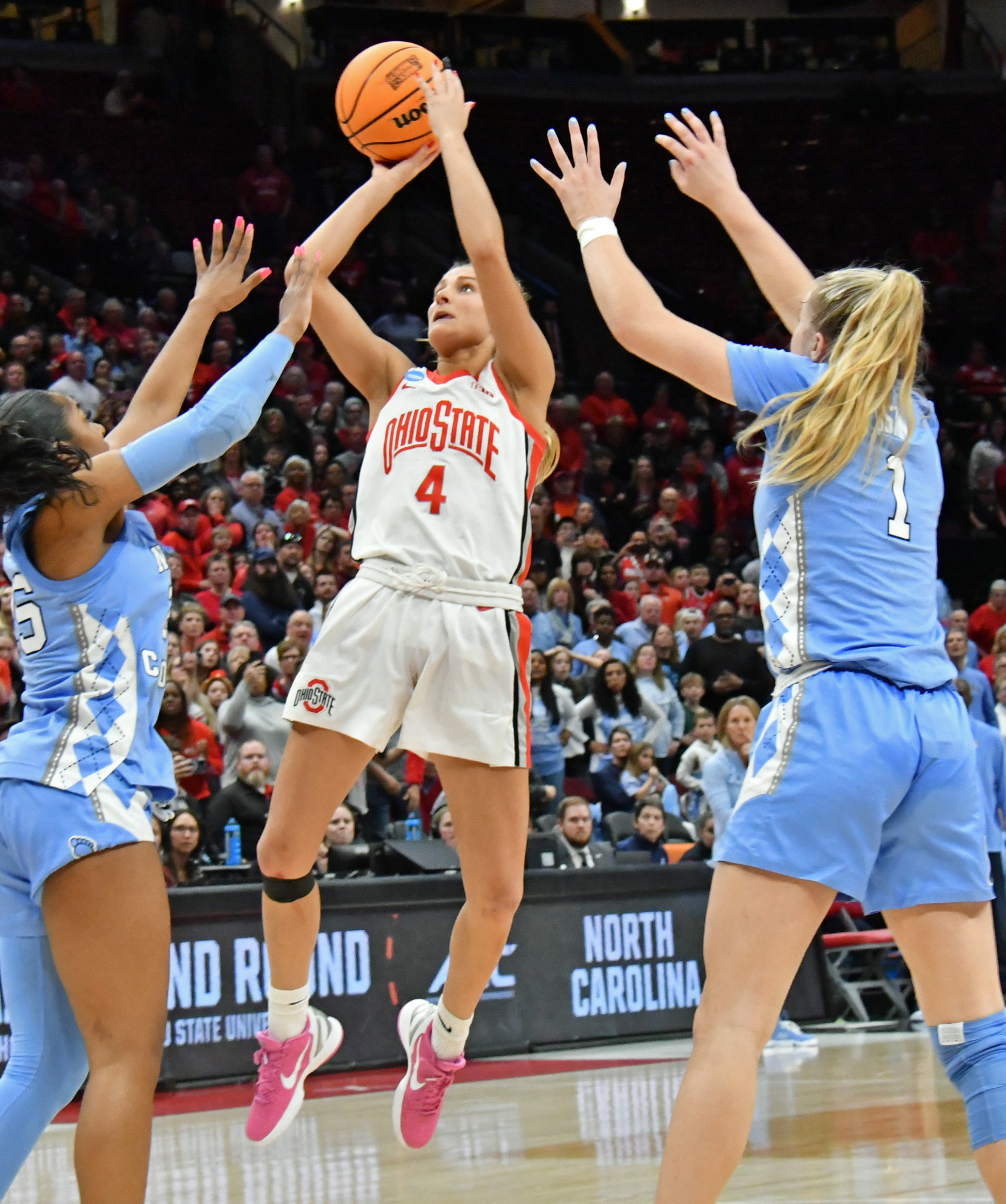 Ohio State needed to draw up a play late against North Carolina on Monday, knotted up at 69 with just nine seconds remaining, and there wasn't any doubt who the ball might go to with the game – and a trip to the Sweet 16, the second in as many years for the Buckeyes – on the line.
"Yeah, the plan was to get it in Jacy's hands, for sure," Ohio State head coach Kevin McGuff said. "It didn't go exactly the way we wanted it. It got a little fouled up on our timing, and they guarded it well…Eboni (Walker) made a great decision not passing the initial one to Jacy because she really wasn't open. Then we swung the ball back around and got it back in her hands."
Once that ball was in Sheldon's hands, arriving after a handful of seconds off the clock and a few passes later, she floated it in from right near the top of key to put Ohio State up 71-69 with just 1.8 seconds remaining. That time came off at the other end as North Carolina's final heave came up short, meaning Sheldon's shot secured a victory for the Buckeyes.
"We see it every single day in practice, see it every day when we're working out together," Ohio State guard Taylor Mikesell said. "How much adversity she's been through this season, just to come back and be ready for that moment and to be like her old self, if not better…pretty incredible."
Sheldon finished the game with 16 points on 6-of-14 shooting, adding six rebounds and a game-high five assists for Ohio State, just one of the impressive performances she has had since returning to the lineup for the Buckeyes.
She returned to the court for the Big Ten Tournament in early March after missing 21 games through the middle of the season due to a lower-leg injury, and her minutes have slowly ramped back up, culminating with her playing a team-high 39:45 today, exiting for just 15 seconds in the first quarter but otherwise toughing out the entire game for Ohio State.
McGuff spoke often across the second half of the season on holding off from bringing Sheldon back to ensure that she would be at full-strength for the stretch run, beginning with the Big Ten Tournament, and if Monday's game-winner – as well as her overall performance so far in the NCAA Tournament – has been any indication, Sheldon is back for the Buckeyes.
"She's such a great player and we would want her in every game for as many minutes as possible," McGuff said. "But just due to an unfortunate injury we didn't have that.
"Jacy and the trainer worked really, really hard to get back and to have a chance to impact us like she's doing down the stretch," he continued. "I think some good decisions were made from the medical staff and from Jacy and their collaboration to get it right, the time that we brought her back, and then the Big Ten tournament was awesome to have her there, and then we've just been able to build up her minutes. So awesome to have her back."
Sheldon's game-winner sends Ohio State to the program's 13th appearance in the Sweet 16 next weekend, but despite everything that came with her final shot – the game-winning aspect, not to mention the win or go home nature of March Madness – Sheldon was just happy that Ohio State came away with the win and will keep on dancing.
"It's always special to win," she said. "I think winning's always our top priority, especially in March, I mean – it's hard to win. It's awesome. Winning is fun and we've got a group of competitors, so it's extra special for us."