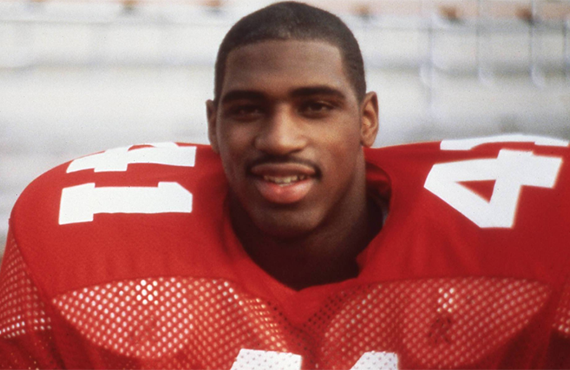 The College Football Hall of Fame announced on Wednesday afternoon that former Ohio State running back Keith Byars will be among its 2020 inductees.
B1G MVP and 1984 Heisman Trophy runner-up Keith Byars has been selected as a 2020 College Football Hall of Fame inductee 🏅

Full announcement 👉 https://t.co/PSNQtwnzFp | #GoBucks pic.twitter.com/wmJSNUQL1G

— Ohio State Buckeyes (@OhioStAthletics) March 11, 2020
Byars — a Dayton (Ohio) native who played for the Buckeyes from 1982-85 — finished his college career with 3,200 rushing yards and 50 total touchdowns. He was a Heisman Trophy runner-up, first-team All-American and the Big Ten's offensive player of the year during his junior season, when he led the nation in rushing (1,784 yards) and scoring (144 points) while guiding Ohio State to the conference title and a berth in the Rose Bowl.
The highlight of Byars' career was undoubtedly the 1984 game Illinois when the Buckeyes faced a 24-0 first-half deficit but came back to win, 45-38. He rushed for a then-school-record 274 yards and record-tying five touchdowns — including one where he famously lost his shoe on his way to the end zone.
Despite appearing in just four games during his senior season after suffering a broken foot in preseason practice, Byars was selected by the Philadelphia Eagles with the 10th overall pick in the 1986 NFL Draft. He recorded 8,770 yards from scrimmage and 54 total touchdowns during his 13 seasons with the Eagles, Miami Dolphins, New England Patriots and New York Jets.
Byars becomes the 26th Buckeye to be inducted into the College Football Hall of Fame, joining fellow running backs Chic Harley, Gaylord Stinchcomb, Vic Janowicz, Howard "Hopalong" Cassady, Archie Griffin, Bob Ferguson and Eddie George.
Other 2020 inductees include quarterbacks Eric Crouch (Nebraska), Steve McNair (Alcorn State) and Cade McNown (UCLA); running back Eric Dickerson (SMU); wide receiver Michael Westbrook (Colorado) and Elmo Wright (Houston); offensive tackles Lomas Brown (Florida) and Jumbo Elliott (Michigan State); defensive ends E.J. Junior (Alabama), David Pollack (Georgia) and Bob Stein (Minnesota); defensive tackles Glenn Dorsey (LSU) and Leslie O'Neal (Oklahoma State); linebacker E.J. Henderson (Maryland); defensive back Anthony Poindexter (Virginia); and kicker Jason Hanson (Washington).
Two coaches will also be inducted during the 63rd National Football Foundation Annual Awards Dinner at the New York Hilton on Dec. 8, including Dick Sheridan (Furman and North Carolina State) and Andy Talley (St. Lawrence and Villanova).