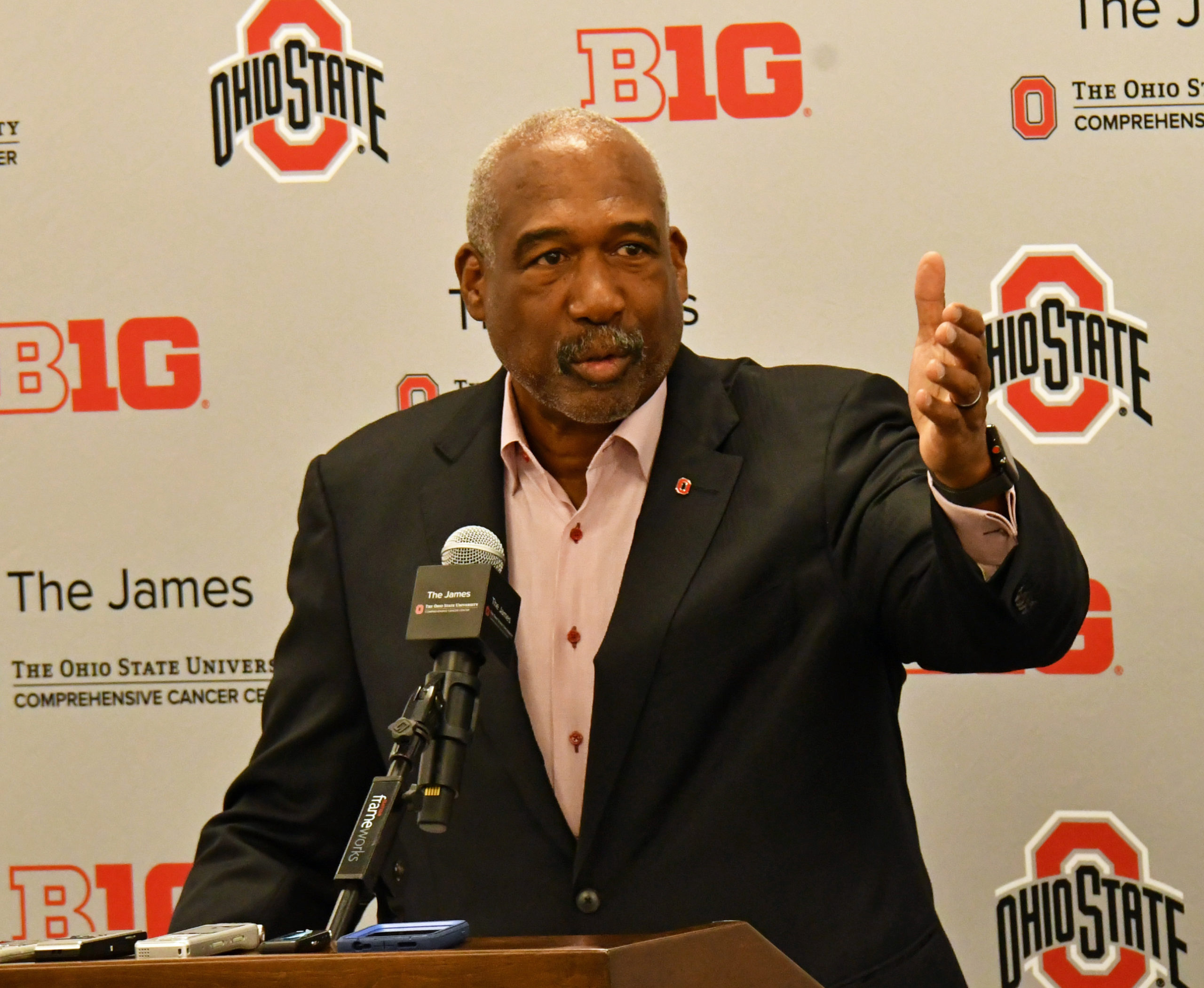 Ohio State athletic director Gene Smith will still be on the job for nearly another year, announcing Wednesday that he will retire on June 30, 2024, but the next 11 months will feature a furious search to determine who will lead Ohio State's athletic department once Smith officially moves on.
It's early in the process – and Smith said the decision will ultimately be made by the new Ohio State University president, who also has yet to be selected – but a shortlist of potential candidates has already developed in the days since Smith's announcement, with familiar faces among the potential nominees.
During his 18 (soon to be 19) years as Ohio State's athletic director, Smith has had no shortage of former employees go on to do great things. In fact, four current athletic directors at the Division I level (as well as one Division III athletic director) have worked under Smith during his time at Ohio State – that list includes Pittsburgh athletic director Heather Lyke, Washington State athletic director Pat Chun, UCLA athletic director Martin Jarmond and Utah State athletic director Diana Sabau, as well as Case Western Reserve athletic director TJ Sheldon.
Lyke has been athletic director at Pittsburgh since 2017, but prior to her time with the Panthers, Lyke spent 15 years at Ohio State in a variety of roles, including associate athletic director for sport administration, associate athletic director for sport administration and senior associate athletic director. Under Lyke, Pittsburgh achieved the school's highest-ever ranking in the Directors' Cup standings, finishing 53rd out of 298 Division I schools in the most recent rankings.
Chun has been the longest-tenured athletic director among Smith's disciples, spending six years as athletic director at Florida Atlantic from 2012-2018 before taking on the same role at Washington State, where he currently remains. Prior to becoming an athletic director, Chun spent 15 years at Ohio State, beginning in the athletics communication office in 1997 before eventually working his way up to executive associate athletics director for external relations prior to his departure. A native of Strongsville, Ohio, Chun also receive his bachelor's degree from Ohio State.
Jarmond, a native of Fayetteville, N.C., spent eight years at Ohio State from 2009-2017, serving as a deputy director of athletics under Smith. He had previously spent six years as an assistant athletic director at Michigan State, and after his time at Ohio State, Jarmond spent three years at Boston College – becoming, at the time, the youngest Power Five athletic director at just 37 years old – and took over as UCLA's athletic director beginning in 2020.
The other Smith protege working in the Division I ranks is Sabau, though she is the least likely to depart her current post considering that she only began at Utah State on Monday, and held her introductory press conference for the Aggies on Thursday. She spent over 20 years at Ohio State in various roles before becoming the Big Ten's deputy commissioner and chief sports officer.
While Smith's disciples make for a neat short list, it's unlikely that they will be the only ones considered for the position. Should Ohio State look in-house for a potential hire, the school could asses the merits of someone like senior associate athletic director Carey Hoyt, who has helped lead Ohio State's name, image and likeness efforts in recent years.
Ohio State could also look beyond Smith's circle or even that of the university, as it is sure to be a highly sought-after opening. Plenty of sitting athletic directors would likely consider the opportunity, and given college football's shift toward hiring more media-centric leaders, such as the Big Ten's hiring of former MLB network executive Tony Petitti to lead the conference, Ohio State could look to the media sphere for options to replace Smith a year from now.