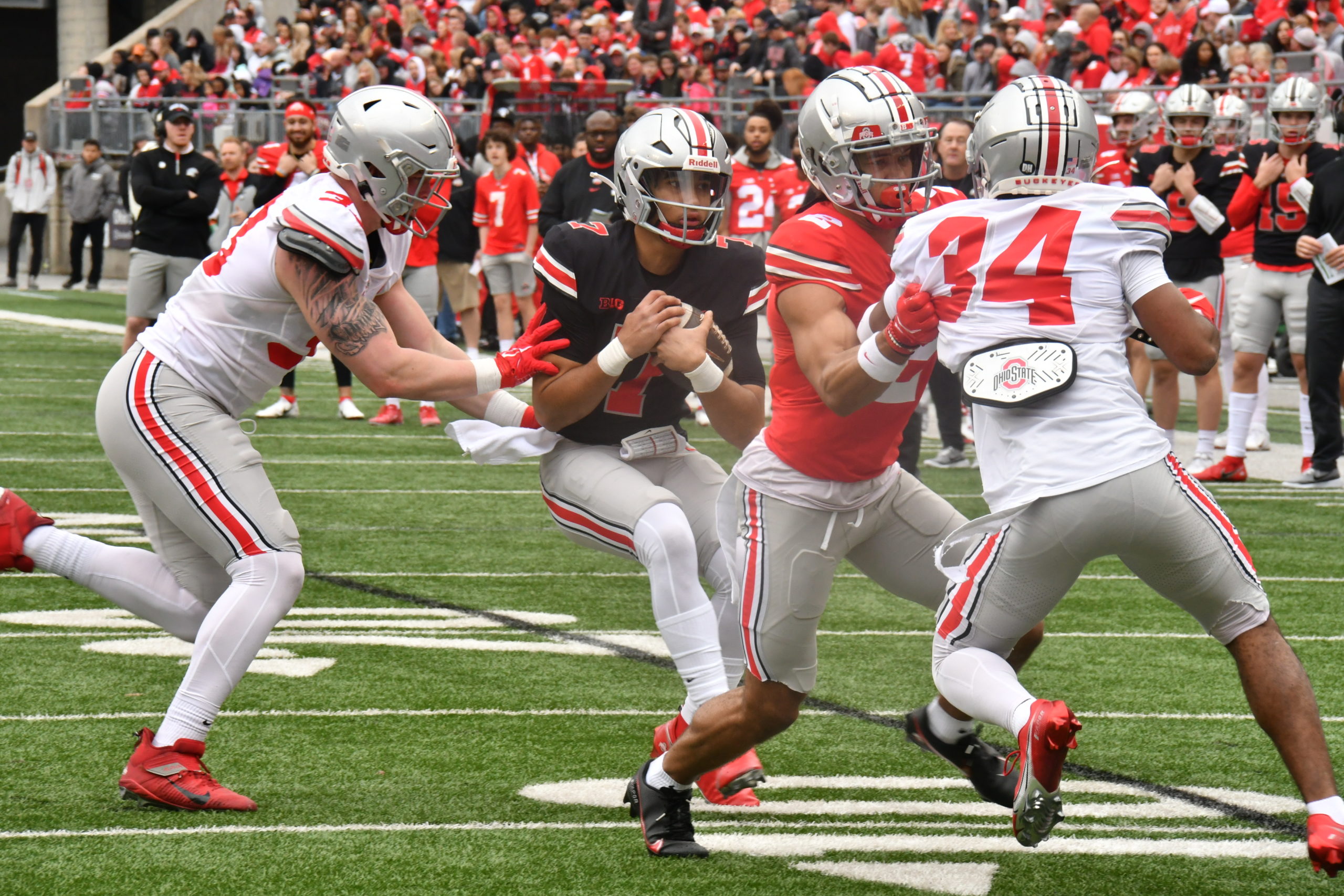 In one of the most impressive quarterbacking performances in team history, Ohio State quarterback C.J. Stroud rebounded from a shaky start to the 2021 campaign before turning in one of the finest passing seasons for the program.
After completing just 62.4 percent of his passes and throwing three interceptions in his first three starts at Ohio State, Stroud turning things around to finish the season with 4,435 passing yards and 44 passing touchdowns while completing 71.9 percent of his passes, all of which ranked among the program's best marks.
Boosted by a trio of star receivers in Chris Olave, Jaxon Smith-Njigba and Garrett Wilson, freshman phenom running back TreVeyon Henderson and an offensive line that was geared toward pass blocking, Stroud was put in a position to succeed and took advantage, becoming a star quarterback and earning a trip to New York as a Heisman finalist.
Though things appeared easy for Stroud by the season's end – especially so when he threw for an Ohio State and Rose Bowl record 573 passing yards to go with six touchdowns against Utah – but his head coach cautioned that he will have to work just as hard this year.
"Just because he did it last year doesn't mean it's just gonna happen this year," Ryan Day said Wednesday on 97.1 The Fan. "If anything else, has got a bullseye on his chest. So he's going to have to bring it right from the jump, and there's a lot that comes with that."
Stroud is just one of several returning starters on offense, including wide receiver Jaxon Smith-Njigba, running back TreVeyon Henderson and offensive linemen Paris Johnson Jr., Dawand Jones and Luke Wypler. This means there will be no shortage of help for Stroud as he looks to surpass the height of his redshirt freshman season.
It puts high expectations on Stroud – expected to be one of the finalists, if not the favorite, for this year's Heisman Trophy – and on the offense to perform, and while it will take some time until those expectations can be met, the journey has already began and will stretch into Ohio State's season opener against Notre Dame on Sept. 3.
"I think going into a season, it's hard to predict much," Day said. "The good news is we have a lot of our team back so I think that that's good, you can project a little bit, but we won't know what kind of team we have until we get to September and October. But the hard thing around here is we can't wait that long."