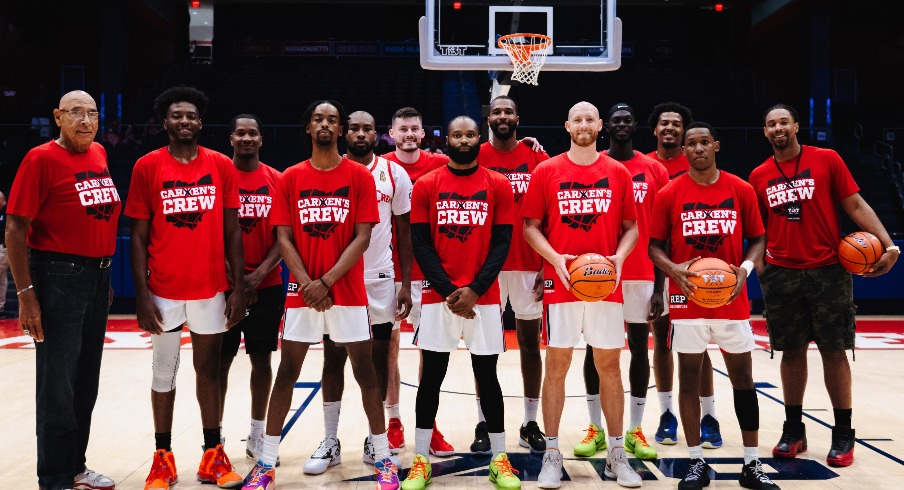 Fourth-seeded Carmen's Crew advanced in The Basketball Tournament on Friday, notching an 82-56 win over eighth-seeded India Rising in Dayton to earn a spot in the third round.
India Rising, which had an upset over Red Scare in the first round, kept pace with Carmen's Crew in the first period, leading by as many as six points before finishing the first frame tied up 23-all. Carmen's Crew opened the second period on a 17-4 run, with nine of those points coming from Keyshawn Woods, and entered the half up 43-33.
India Rising's Kiran Shastri exploded for eight points in the early going of the third period to make it just a two-possession game, but Carmen's Crew responded with a 13-0 run before leading 63-44 at the end of the third.
Carmen's Crew continued to pile on in the fourth period, going up by as many as 28 points before taking home the 82-56 victory, with Jalen Tate – the brother of former Ohio State forward Jae'Sean Tate – clinching the contest with a free throw.
Carmen's Crew was led by Javon Bess, Papa Malik Dime and Scott Thomas, who each notched 11 points, while Kaleb Wesson, Woods and Kyle Young each scored 10 points. Wesson finished with a double-double, adding a team-high 11 rebounds. India Rising was held to just 28.3 percent shooting from the field while Carmen's Crew shot 46.9 percent from the field.
With the win, Carmen's Crew will face Friday Beers on Saturday at 7 p.m., with the winner to advance to the quarterfinals against either The Program for Autism or Nasty Nati.