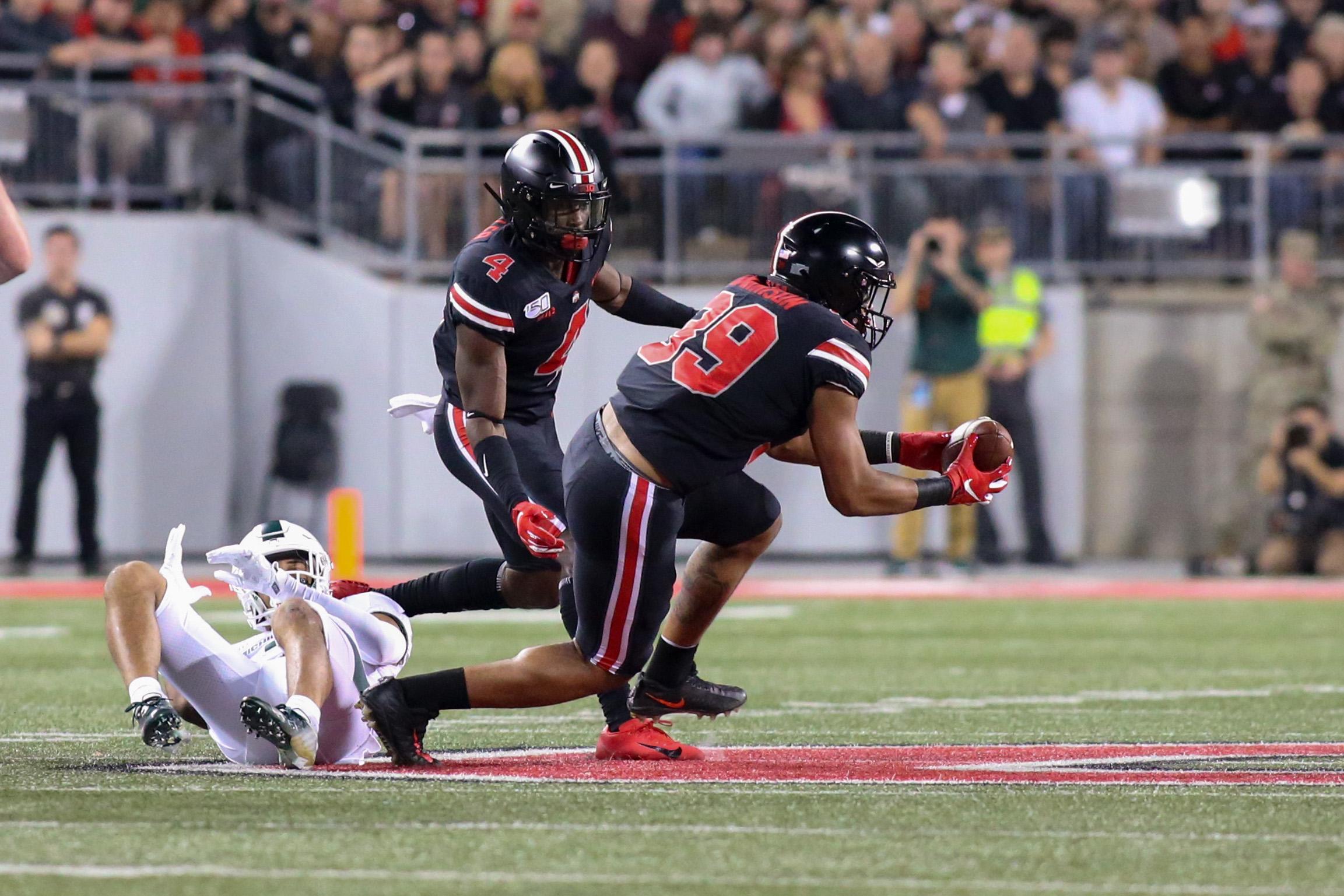 Ohio State's upward trajectory in the AP Poll has continued for yet another week, following a 34-10 win over Michigan State on Oct. 5. The Buckeyes have moved up to third from fourth, though they do have to share the spot with Georgia, because both teams received 1,393 votes from the Associated Press voters. The Bulldogs beat Tennessee 43-14 to hold onto their place in the poll.
Alabama and Clemson remain the only teams ahead of the Buckeyes and Bulldogs for yet another week, with both teams on bye this past weekend. Behind the Buckeyes, LSU and Oklahoma remain at five and six, Florida is up three spots to No. 7, Wisconsin and Notre Dame remain at eight and nine, and Penn State is up two spots to No. 10.
The Buckeyes are one of five Big Ten teams in the poll, along with the Badgers, Nittany Lions, and No. 16 Michigan fresh of its 10-7 win over No. 17 Iowa, who fell three spots. Minnesota received 80 votes, good enough for 26th, while Michigan State sits at 32nd, with 17 votes.
| Rank | | Team | Previous Rank | Conference | Points | |
| --- | --- | --- | --- | --- | --- | --- |
| 1 | | Alabama (5-0) | 1 | SEC | 1,503 | |
| 2 | | Clemson (5-0) | 2 | ACC | 1,433 | |
| 3 | | Georgia (5-0) | 3 | SEC | 1,393 | |
| 3 | | Ohio State (6-0) | 4 | Big Ten | 1,393 | |
| 5 | | LSU (5-0) | 5 | SEC | 1,352 | |
| 6 | | Oklahoma (5-0) | 6 | Big 12 | 1,268 | |
| 7 | | Florida (6-0) | 10 | SEC | 1,163 | |
| 8 | | Wisconsin (5-0) | 8 | Big Ten | 1,105 | |
| 9 | | Notre Dame (4-1) | 9 | Independent | 1,046 | |
| 10 | | Penn State (5-0) | 12 | Big Ten | 958 | |
| 11 | | Texas (4-1) | 11 | Big 12 | 947 | |
| 12 | | Auburn (5-1) | 7 | SEC | 920 | |
| 13 | | Oregon (4-1) | 13 | Pac-12 | 828 | |
| 14 | | Boise State (5-0) | 16 | Mountain West | 654 | |
| 15 | | Utah (4-1) | 17 | Pac-12 | 624 | |
| 16 | | Michigan (4-1) | 19 | Big Ten | 618 | |
| 17 | | Iowa (4-1) | 14 | Big Ten | 454 | |
| 18 | | Arizona State (4-1) | 20 | Pac-12 | 388 | |
| 19 | | Wake Forest (5-0) | 22 | ACC | 380 | |
| 20 | | Virginia (4-1) | 23 | ACC | 353 | |
| 21 | | SMU (6-0) | 24 | American Athletic | 285 | |
| 22 | | Baylor (5-0) | | Big 12 | 260 | |
| 23 | | Memphis (5-0) | | American Athletic | 189 | |
| 24 | | Texas A&M (3-2) | 25 | SEC | 165 | |
| 25 | | Cincinnati (4-1) | | American Athletic | 118 | |
| 26 | | Minnesota (5-0) | | Big Ten | 80 | |