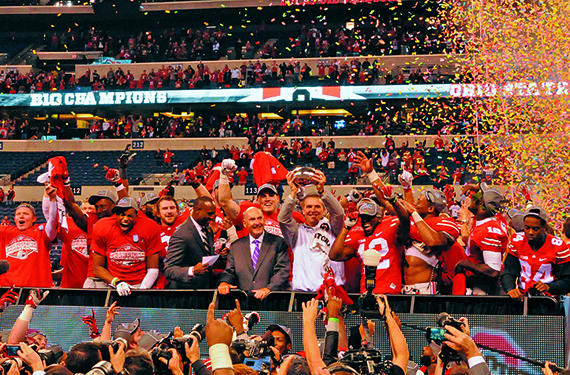 For the 40th anniversary of Buckeye Sports Bulletin, we will select a standout Ohio State football game that was played in the corresponding week in our first 39 years of publishing and running stories from the original BSB coverage.
Ahead of the inaugural College Football Playoff, the Buckeyes needed an impressive win against Wisconsin in the 2014 Big Ten Championship Game to impress the CFP Committee.
Despite missing starting quarterback J.T. Barrett, Ohio State answered the bell in a 59-0 victory over the Badgers. The Buckeyes were led by brilliant defense and stellar performances from the offensive trio of quarterback Cardale Jones, tailback Ezekiel Elliott and wideout Devin Smith.
This installment of BSB Reprints includes our in-depth coverage of the Buckeyes' win over the Badgers, with quotes from players and coaches, and details of the seniors' impact on the game.
.
Download PDF