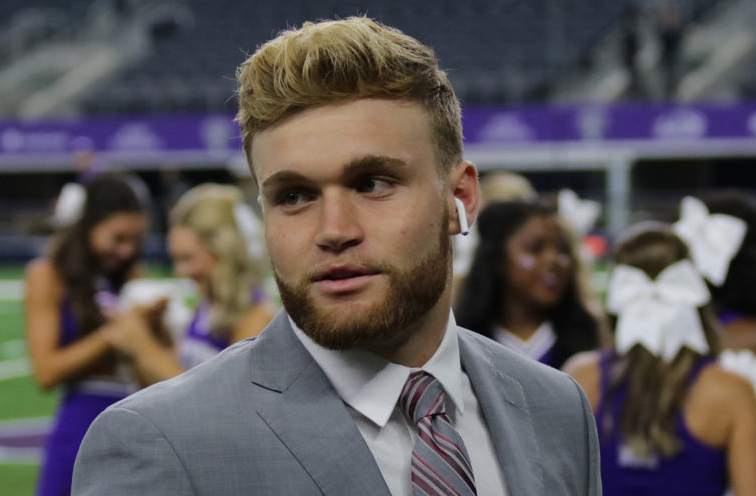 With the announcement from Miami that the Hurricanes will go with Jarren Williams as their starting quarterback over former Ohio State quarterback Tate Martell, that means the Week 1 matchup between Miami and Florida will feature two former Buckeyes' commits — and both will be on the bench.
The Gators' Emory Jones decommitted from Ohio State before his collegiate career began, but he was a part of a supposedly-loaded quarterback room in 2017 that looked to be filled with intense competition and multiple starters. Instead, it became a bit more complicated.
Oct. 28, 2017 — No. 6 Ohio State defeats No. 2 Penn State 39-38 behind veteran quarterback J.T. Barrett's 423 all-purpose yards and four touchdowns. But the future at the quarterback position looked equally bright, with Dwayne Haskins and Joe Burrow on the team, and future commitments from Martell and Jones for the 2017 and 2018 classes, respectively.
Nov. 11 — Ohio State now has a loss to Iowa on its resume, but problems also begin to surface with one of its recruits. Jones, who had previously taken visits to Alabama, takes a visit to Auburn, and talks of him decommitting from the Buckeyes heat up. Ohio State then takes visits from a pair of quarterbacks: future Miami starter Jarren Williams and future Nebraska starter Adrian Martinez, each within a week of Jones' Auburn visit.
Nov. 12 — Another quarterback also enters the fold, with then-Colorado State commit Matthew Baldwin receiving an offer from Ohio State.
Dec. 6 — Jones remains an OSU commit, but both Williams and Martinez found their new homes with the Hurricanes and the Cornhuskers within two days of each other. Williams committed on Dec. 6, and Martinez on Dec. 8, but in between those days, Ohio State landed Baldwin after the pro-style quarterback decommitted from Colorado State a week prior.
Dec. 20 — Jones officially decommits from Ohio State and flips to Miami, looking for an opportunity to play earlier in his collegiate career. After Barrett's time is over, the future now consists of Haskins — who a month ago led a comeback victory against rival Michigan — Burrow, Martell and Baldwin.
May 18, 2018 — Joe Burrow, after announcing he would transfer earlier in the month, officially moves on to LSU.
Aug. 14 — West Virginia quarterback Chris Chugunov transfers to Ohio State.
Dec. 19 — D'Wan Mathis, an OSU quarterback commit for the 2019 class, flips from Ohio State to Georgia during talks of Justin Fields, a five-star prospect for the Bulldogs, wanting to transfer.
Dec. 30 — In the midst of a historically-impressive season from Haskins, he is expected to move onto the NFL following the Rose Bowl. This would leave Martell and Baldwin as the main competitors for the starting job in 2019. But another name has been thrown around: Justin Fields. When Martell is asked about his chances next season, he says: "Why would I leave for someone who hasn't put in a single second into this program? … To just run away from somebody who hasn't put a single second into workouts anything like that and doesn't know what the program is all about, there's not a chance."
Jan. 4, 2019 — Fields, one of the highest-rated quarterback prospects in recent memory, transfers to Ohio State.
Jan. 7 — Haskins officially enters the NFL Draft.
Jan. 16 — Just 18 days removed from his comments at the Rose Bowl, Martell transfers to Miami.
April 27 — Ohio State fills out its quarterback room with the transfer of Kentucky quarterback Gunnar Hoak.
May 7 — With a focus on wanting to be closer to home, Baldwin transfers to TCU.
Barrett was expected to leave Ohio State with a pair of ready quarterbacks in Haskins and Burrow, while also receiving a steady stream of commits in Martell, Jones and Baldwin, while names like Williams and Martinez also were in the mix.
All but Haskins left, or never even showed up in the first place, forcing the Buckeyes to go through the transfer portal to fill out their quarterback situation in 2019.