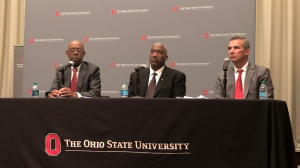 WATCH: Meyer, Smith, Drake Discuss OSU Investigation
After announcing its findings from the investigation involving head football coach Urban Meyer, Ohio State fielded questions from reporters for roughly 20 minutes Wednesday evening at Longaberger Alumni House. Along with university president Michael Drake and athletic director Gene Smith, Meyer spoke publicly for the first time since going on paid administrative leave.
Before the question-and-answer part of the press conference, Meyer, Smith and Drake, as well as Mary Jo White from the independent investigative team, shared their initial sentiments in opening statements.
MORE ON THE STORY
[divider line_type="Full Width Line" line_thickness="2″ divider_color="default"][nectar_btn size="jumbo" button_style="regular" button_color_2="Accent-Color" icon_family="none" url="http://www.buckeyesports.com/boards/" text="Join The Conversation"]