VIDEOS: Ohio State's 7 Team Captains Speak After Tuesday Practice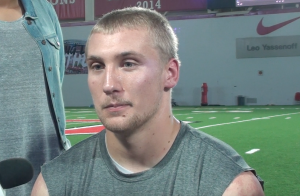 For the first time since July 24 at Big Ten Media Days in Chicago, Ohio State players were made available to the media. After the Buckeyes completed their latest day of practice at the Woody Hayes Athletic Center, the team's seven captains met the press for interviews.
Fifth-year senior H-back Parris Campbell, junior safety Jordan Fuller, fifth-year senior wide receiver Johnnie Dixon, junior defensive end Nick Bosa, fifth-year senior wide receiver Terry McLaurin, senior offensive tackle Isaiah Prince and sophomore Tuf Borland discussed a variety of topics from fall camp to game week. Ohio State inches closer to its season opener Saturday inside Ohio Stadium, where the Buckeyes host Oregon State at noon on ABC.
Tuf Borland
Isaiah Prince
Nick Bosa
Parris Campbell
Jordan Fuller
Johnnie Dixon
Terry McLaurin
[divider line_type="Full Width Line" line_thickness="2″ divider_color="default"][nectar_btn size="jumbo" button_style="regular" button_color_2="Accent-Color" icon_family="none" url="http://www.buckeyesports.com/boards/" text="Join The Conversation"]