Senior Buckeyes Motivated To Make Their Final Games Count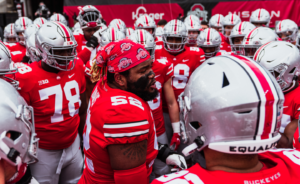 Ohio State didn't get to send its seniors off with the traditional senior day festivities this season. In fact, those seniors didn't get a true send off of any sort in Ohio Stadium, as they had no way of knowing that the Nov. 21 matchup with Indiana would be the final home game of the campaign for the Buckeyes.
"It was really tough," guard Wyatt Davis said of missing senior day. "Especially when we found out super early in the week like that. For me, personally, that's what I was thinking about, just, man, here we are on Saturday having a practice, when we'd be getting ready for a game right now. If anything this year has taught us that nothing is for certain and we just had to bounce back from that and try to move on as best we could, with full focus on Northwestern, which is what we've been doing.
"Really just what was hard was obviously that game but also not being able to walk out into the Shoe for one last time. That was tough."
For some, like cornerback Shaun Wade, losing the opportunity against Michigan specifically was a difficult pill to swallow, but he understood the move.
"I only got one chance to play against Michigan," Wade said. "Last year I didn't get to play because I was hurt, my freshman year I didn't get to play, so I only got (the one year). I wasn't mad that they kind of backed out, at the end of the day there's COVID, our health is definitely more important than the game of football and for the world in general. They had to make their grown man decision."
While they're disappointed, those seniors aren't letting the stop-and-start nature of the season or the lack of a senior day derail their preparation for the Big Ten title game against Northwestern on Dec. 19 or for anything that happens after that. In fact, with at least two more games on the schedule, with the potential for a third, Ohio State's players told media on Tuesday that the lack of a senior day has just served as motivation to make these final games count.
"It's huge," Davis said. "And not only that it's the last couple games, we're just taking it day by day, having the opportunity to even practice and then play, it's something that I've learned to appreciate more this year because of these circumstances. The motivation is at an all-time high, not just for me but for everyone else, because you don't even know. Tomorrow, something could happen and you might not be playing. Just taking it day by day and being grateful for each individual moment."
The Buckeyes have moved their focus away from the cancellations and towards the Big Ten title, the loss of that final opportunity still stung several days after Ohio State heard the news.
"I feel like it wouldn't sit well with anybody, but that's life, I can only control what I can control," linebacker Baron Browning said. "I can't sit here and act like I moved on immediately afterwards when we found out it was canceled, it took a day or two but I had to shift my mindset to get ready for Northwestern."
That ability to move forward and past the loss of games in such a strange season was one that every player mentioned as a focus for the Buckeyes entering the final stretch of the season. With nothing guaranteed in 2020, Ohio State is just hoping to make the most of the opportunities it has left, whatever that might entail in the next few weeks.
"I'm trying to cherish every (game) and I feel like that's the mindset of all the other seniors," Browning said. "We're just trying to lean on one another and make the most of our last few moments as a Buckeye."