Ohio State Opens 2018 At No. 5 In AP Top 25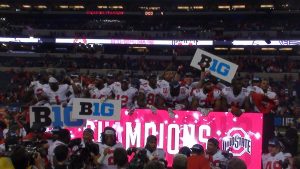 While the final word on Ohio State's investigation into head football coach Urban Meyer is expected to come at some point during the week, the Buckeyes opened Monday ranked high in another preseason poll.
Less than two weeks to go until the team's season opener in Ohio Stadium Sept. 1 against Oregon State at noon on ABC, the AP Top 25 pegs OSU at No. 5. Earlier in the month, Ohio State appeared at No. 3 in the preseason Coaches Poll.
No. 4 Wisconsin, No. 3 Georgia, No. 2 Clemson and No. 1 Alabama are ahead of OSU to round out the top five. No. 6 Washington, No. 7 Oklahoma, No. 8 Miami (Fla.), No. 9 Auburn and No. 10 Penn State follow Ohio State to complete the top 10.
In addition to the Badgers, Buckeyes and Nittany Lions, No. 11 Michigan State and No. 14 Michigan sum up the Big Ten's ranked teams. The Big Ten and SEC appeared most among the represented conferences, tying with five programs each.
With results from the 2017 season included, as well as point totals and first-place tallies from the vote, the entire preseason AP Top 25 is listed below.
1. Alabama (13-1) Points: 1,505 (42 first-place votes)
2. Clemson (12-2) Points: 1,476 (18)
3. Georgia (13-2) Points: 1,350
4. Wisconsin (13-1) Points: 1,271 (1)
5. Ohio State (12-2) Points: 1,256
6. Washington (10-3) Points: 1,215
7. Oklahoma (12-2) Points: 1,173
8. Miami (Fla.) (10-3) Points: 1,027
9. Auburn (10-4) Points: 1,013
10. Penn State (11-2) Points: 1,012
11. Michigan State (10-3) Points: 877
12. Notre Dame (10-3) Points: 804
13. Stanford (9-5) Points: 778
14. Michigan (8-5) Points: 773
15. Southern California (11-3) Points: 543
16. TCU (11-3) Points: 533
17. West Virginia (7-6) Points: 511
18. Mississippi State (9-4) Points: 450
19. Florida State (7-6) Points: 384
20. Virginia Tech (9-4) Points: 351
21. Central Florida (13-0) Points: 312
22. Boise State (11-3) Points: 292
23. Texas (7-6) Points: 216
24. Oregon (7-6) Points: 148
25. LSU (9-4) Points: 106
[divider line_type="Full Width Line" line_thickness="2″ divider_color="default"][nectar_btn size="jumbo" button_style="regular" button_color_2="Accent-Color" icon_family="none" url="http://www.buckeyesports.com/boards/bsb-fan-forum/preseason-coaches-poll-ohio-state-ranked/" text="Join The Conversation"]