Ohio State Moves To Fourth In AP Poll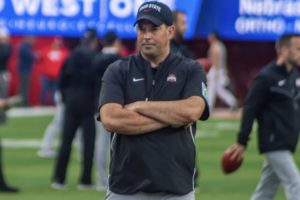 For the second straight week, Ohio State is moving up in the AP Poll, thanks to its massive 48-7 win in primetime over Nebraska in Lincoln. After checking in at five in last week's poll, the Buckeyes jumped over LSU in the week five rendition, as the Tigers sat out the week on a bye.
The Buckeyes now trail Alabama (up from second to first), Clemson (down one spot) and Georgia, and are followed in the top ten by the Tigers, Oklahoma, Auburn, Wisconsin, Notre Dame and Florida. The only change outside of the top four was at nine and ten, where Notre Dame and Florida flipped places.
Ohio State is joined by four other Big Ten teams: Wisconsin at eighth, Penn State at 12, Iowa at 14, and Michigan, up one spot to 19th after its blowout win over Rutgers.
The top team that currently sits right outside the poll is Ohio State's next opponent, Michigan State, with 147 votes received, which puts them right next to the No. 25 Texas A&M Aggies. Minnesota is also receiving votes, though the undefeated Golden Gophers only picked up 15 this week.
Rank
Team
PV Rank
Conference
Points
1
Alabama (5-0)
2
SEC
1,478
2
Clemson (5-0)
1
ACC
1,426
3
Georgia (4-0)
3
SEC
1,375
4
Ohio State (5-0)
5
Big Ten
1,324
5
LSU (4-0)
4
SEC
1,322
6
Oklahoma (4-0)
6
Big 12
1,264
7
Auburn (5-0)
7
SEC
1,186
8
Wisconsin (4-0)
8
Big Ten
1,046
9
Notre Dame (3-1)
10
IA Independents
996
10
Florida (5-0)
9
SEC
986
11
Texas (3-1)
11
Big 12
919
12
Penn State (4-0)
12
Big Ten
878
13
Oregon (3-1)
13
Pac-12
817
14
Iowa (4-0)
14
Big Ten
731
15
Washington (4-1)
17
Pac-12
603
16
Boise State (4-0)
16
Mountain West
559
17
Utah (4-1)
19
Pac-12
534
18
UCF (4-1)
22
American Athletic
352
19
Michigan (3-1)
20
Big Ten
350
20
Arizona State (4-1)
Pac-12
249
21
Oklahoma State (4-1)
Big 12
215
22
Wake Forest (5-0)
ACC
190
23
Virginia (4-1)
18
ACC
186
24
Southern Methodist (5-0)
American Athletic
151
25
Texas A&M (3-2)
23
SEC
147