Micah Potter Transfers From Ohio State Basketball Program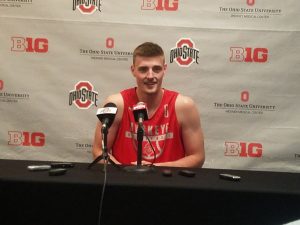 Just two days before the start of the season Ohio State announced that junior forward Micah Potter has decided to transfer out of the Buckeye basketball program.
"We appreciate Micah's contributions to our program and we wish him the very best moving forward," head coach Chris Holtmann said in a statement.
Potter, who led Ohio State in scoring with 13 points in an 81-63 win over UNC Pembroke, appeared in 59 career games for the Buckeyes over two season, starting 16 and averaging 4.1 points per game.
He started the season last year at center before an injury sidelined him for much of the non-conference schedule. He eventually lost his starting role to then-freshman Kaleb Wesson who was named to the All-Big Ten Freshman Team.
Ohio State brought in forward Jaedon LeDee as part of the 2018 recruiting class and also has four-star forward EJ Liddell committed in the 2019 recruiting cycle. Wesson is also expected to play the bulk of the minutes in the post this year.
[divider line_type="Full Width Line" line_thickness="2″ divider_color="default"][nectar_btn size="jumbo" button_style="regular" button_color_2="Accent-Color" icon_family="none" url="http://www.buckeyesports.com/boards/" text="Join The Conversation"]