Kylie Murr Earns B1G Defensive Player and Co-Freshman of the Week Honors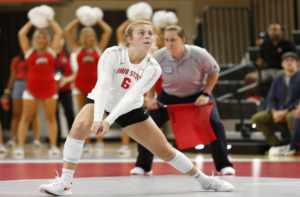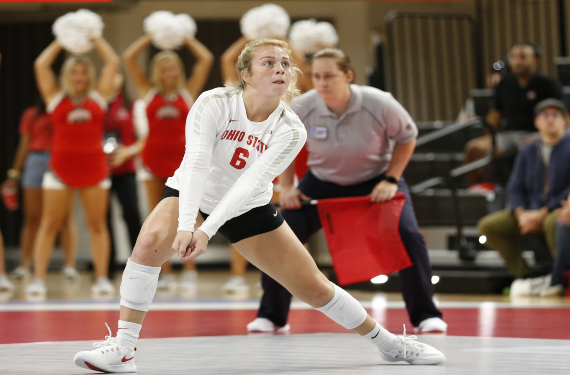 Kylie Murr, a defensive specialist for the Ohio State women's volleyball team was selected as the Big Ten Defensive Player and Co-Freshman of the Week.
The Yorktown, Ind., native led the Buckeyes in digs in all three matches during wins against Miami (Ohio), Illinois State and Dayton. Murr played a pivotal role in the Scarlet and Gray clinching the Buckeye Invitational title for the first time since 2006, earning tournament MVP honors.
Murr excelled at defending serves, committing just two errors in 64 attempts for a .969 average. Against Dayton, she handled 28 error-free service receptions, while also dishing out a career-high nine assists.
Making tough plays for the Buckeyes throughout the tourney, Murr averaged 5.36 digs per set and posted double-digit digs in every match, including 20-plus performances against the RedHawks (24) and Flyers (21).
Only a true freshman, Murr, already leads the Big Ten and ranks No. 12 nationally with 5.40 digs per set. Murr represents the first Buckeye to win weekly conference honors in 2019.
Solid defense and winning are not new concepts to Murr, who led Yorktown (Ind.) to state championship victories in 2016 and 2018. A four-year all-state player, Murr, broke her school's single-season record for 754 digs as a junior, earning her second-team All-American recognition.
Beyond competing for her high school, Murr competed for Municana Volleyball Club, where she won back-to-back national championships as a three-time AAU All-American.