Jacksonville Jaguars Set To Sign WR Terrelle Pryor, Per Report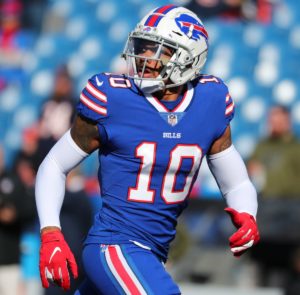 According to NFL Network's Ian Rapoport, former Ohio State quarterback-turned-professional wide receiver Terrelle Pryor is expected to sign with the Jacksonville Jaguars on Thursday.
The #Jaguars are expected to sign veteran WR Terrelle Pryor, source said. He worked out yesterday & the team quickly offered. The deal should be done today, with Pryor getting another chance to make his mark. He spent time with Jax OC John DeFilippo when both were in Cleveland.

— Ian Rapoport (@RapSheet) May 30, 2019
The 29-year-old Pryor played in six games and recorded 14 catches for 235 yards and two touchdowns with the New York Jets last season, but was cut after he suffered a groin injury. He then signed with the Buffalo Bills, but was released after he hauled in just two receptions for 17 yards in two games.
Pryor, who entered the NFL in the 2011 supplemental draft as third-round pick of the Oakland Raiders, was 3-7 as a starting quarterback. He completed nearly 57 percent of his passes for 1,953 yards and nine touchdowns, but also threw 11 interceptions. He also spent time with the Seattle Seahawks, Kansas City Chiefs and Cincinnati Bengals, but did not see any action beyond the preseason.
The 6-4, 227-pounder switched to wide receiver and subsequently had the best season of his career. Playing for the Cleveland Browns, Pryor pulled down 77 receptions for 1,007 yards and four touchdowns.
Pryor also played for the Washington Redskins, but suffered an ankle injury that eventually required season-ending surgery. He will now be reunited with former Ohio State teammate Andrew Norwell on the Jaguars' roster.