Independent Board Investigating Urban Meyer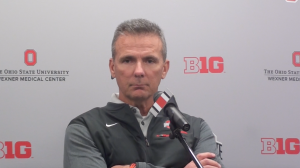 The Ohio State University Board of Trustees announced Thursday that it formed a "special, independent board working group" related to the investigation of head football coach Urban Meyer.
The university, which announced Wednesday that it placed Meyer on paid administrative leave, revealed a six-person committee for the investigation.
The group includes current trustees Alex Fischer, Janet Porter and Alex Shumate in addition to former Ohio House Speaker Jo Ann Davidson, former acting U.S. Deputy Attorney General Craig Morford and former U.S. Attorney for the Southern District of Ohio Carter Stewart.
"The special working group will direct the work of the investigative team and be available to provide consultation and advice and assist with communication to the full board on the matter," Ohio State said in a statement.
More on the story
[divider line_type="Full Width Line" line_thickness="2″ divider_color="default"][nectar_btn size="jumbo" button_style="regular" button_color_2="Accent-Color" icon_family="none" url="http://www.buckeyesports.com/boards/bsb-fan-forum/independent-board-investigating-urban-meyer/" text="Join The Conversation"]