BSB Reprints: Looking Back At Former Wolverines To Coach For Buckeyes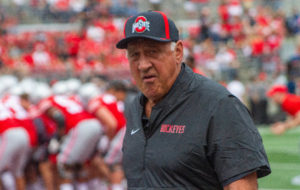 [image_with_animation image_url="18452″ alignment="" animation="None" border_radius="none" box_shadow="none" max_width="100%" img_link="http://www.buckeyesports.com/reports/BSBReprints_Previous_UMcoaches.pdf"]
Ohio State co-defensive coordinator Greg Mattison and linebackers coach Al Washington made the rare rivalry flip when they were hired in January after coaching for Michigan in 2018.
Buckeye Sports Bulletin looked back to our coverage of other former Wolverines who became coaches at Ohio State.
Chuck Heater played running back for the Maize and Blue from 1971-74 and later became a defensive backs coach for the Scarlet and Gray.
Chuck Hobart served as an assistant coach at Miami (Ohio) from 1967-68 and then at Michigan from 1969-75, under Hall of Fame coach Bo Schembechler, who also coached at OSU and UM, at both schools.
Eventually, Hobart joined the Buckeyes late in his career, serving as wide receivers coach from 1995-99 and offensive coordinator in 2000.
This installment of BSB Reprints travels back through the Buckeye Sports Bulletin archives, featuring stories from 1987 and 2000 about Heater and Hobart, who both left their Wolverines ties to become Buckeyes.
.[divider line_type="No Line" custom_height="60″][nectar_btn size="large" button_style="regular" button_color_2="Accent-Color" icon_family="default_arrow" url="http://www.buckeyesports.com/reports/BSBReprints_Previous_UMcoaches.pdf" text="Download PDF"]
[divider line_type="Full Width Line" line_thickness="2″ divider_color="default"][nectar_btn size="jumbo" button_style="regular" button_color_2="Accent-Color" icon_family="none" url="http://www.buckeyesports.com/boards/" text="Join The Conversation"]