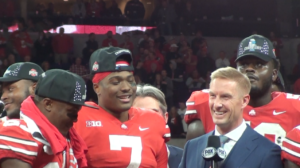 Trophy Presentation: Ohio State Celebrates 45-24 Big Ten Championship Game Victory Against Northwestern
INDIANAPOLIS — As the confetti flew from the rafters of Lucas Oil Stadium after sophomore quarterback Dwayne Haskins took his knee and milked away the final seconds of Ohio State's 45-24 win over Northwestern in the Big Ten Championship Game, he was quickly awarded MVP when the No. 6 Buckeyes (12-1) took the stage with FOX's Joel Klatt.
After head coach Urban Meyer soaked in OSU's conference title, Haskins shared some words while waves of scarlet among the left over 66,375 on hand watched from the stands. Hear what Meyer and Haskins had to say following the victory against the No. 21 Wildcats (8-5) and relive the postgame ceremony from a second straight Big Ten title for the Scarlet and Gray.
[nectar_btn size="jumbo" button_style="regular" button_color_2="Accent-Color" icon_family="none" url="http://www.buckeyesports.com/boards/" text="Join The Conversation"]